My mission is complete! I got a hit (although it may have been by accident) from Ghana in West Africa. A strip of land formerly known as "The Gold Coast". If you're keeping score at home, the Gold Coast is immediately to the East of the popular "Ivory Coast".
We're just about world-wide now! (Yes I'm counting 1 hit in a remote part of the continent as being enough to cover the entire continent. Afterall that's what we do with missionaries right?)
So we've made it to Africa!
posted by Tally Wilgis @ Tuesday, February 28, 2006

links to this post


I've discovered that I work much better with a great
Starbucks
brand White Chocolate Mocha in my system.
I'm an
ENTP
in
the Myers Briggs deal
. The quote I heard about my personality type is: "Some people make lists and use them... you make lists and LOSE them." There is something absent minded at times about how I function.
I've been trying to develop the discipline of
"getting things done"
. Instead of approaching my work like a kid who missed his
ritalin
, I'm trying to get more focused on a few things at a time instead of nibbling on 8 projects at once. I think the nibbling approach could work IF I had a staff or secretary who could take my instructions and run with the details of a project. Up to this point, that's not happening so I have to kick my tail and eat the elephant one agonizing detail at a time.
You see, I'm great at listing the details... when I have a project, I'm great at managing the details and accomplishing all of the details. The problem is when I'm focused on too many projects. There have been times (earlier in my ministry) when I felt like I was spinning 14 plates and many things were left undone. That was early on. Now adays I don't approach things like that.
A few weeks ago Calvin said "Tally, I think people need to know how you lead because most people would freak out and try to do everything at one time. But you on the other hand, you assign boxes to people. It's almost like when someone steps forward in a ministry roll, you write their name on the box. You show them what the box is for and how to use everything in the box. Then you sit the box down for them so they can pick it up. But as always some people don't pick up the box. Most Pastors try to carry that box just so it gets done." He continued "You leave the box in the middle of the floor. You don't have a problem with leaving a box on the floor until someone picks it up."
I think that may be a fair analogy.
But here is what I'm noticing. I still need to revisit everyone with a name on a box. I still need to follow up better. I still have to communicate vision better. I still have to communicate my heart better. I have some areas where I can lead better (don't we all).
In addition, I'm working on finishing my
Masters Degree
in the middle of all of this church planting stuff. I'm a
new dad
. I'm a Pastor and friend. I have all of the hats that many of you have. And you know what?
Sometimes it's just overwhelming.
But it doesn't have to be. I'm focusing on time-management and improving my delegation style. This week I'm traveling to South Carolina for
NAMB
and so I now have about 14 days before I get back to a Sunday morning. I'm hoping to dedicate much of this time to 'getting things done' and improving how I lead.
BUT I REALIZED TODAY...
I do extremely well with a Mocha in my hand. I'm not kidding! My A.D.D. style works like a charm when I'm
crunk
on Starbucks. I think that's the secret to
Scott Hodges'
success. Hmmm...
On a serious note... I'd love to hear how my wonderful readers tackle the 2,000 appointments and people and passions they have to work on each week while maintaining a healthy #1 priority of family in the midst of it all. The great thing with me is that I'm in a very controlled situation... meaning I have NO problem setting my schedule... and sometimes that is the problem so if you have great ideas (planners, organizers, discipline techniques, favorite flavored Starbucks drinks, etc.) that you want to pass along, I'm all ears....
As for now... I'm getting back to work!
posted by Tally Wilgis @ Monday, February 27, 2006

links to this post


Today we concluded a series on love called "Language of Love".
Mark 12:28-31
"
28
One of the teachers of the law came and heard them debating. Noticing that Jesus had given them a good answer, he asked him, "Of all the commandments, which is the most important?"
29"The most important one," answered Jesus, "is this: 'Hear, O Israel, the Lord our God, the Lord is one. 30Love the Lord your God with all your heart and with all your soul and with all your mind and with all your strength.' 31The second is this: 'Love your neighbor as yourself.' There is no commandment greater than these."
This section of scripture seems to me to be all about leverage! Jesus was asked what the greatest commandment (direction from God) was and he said "Love with it all!"
We walked through each of the parts of our being that God calls us to LEVERAGE in love.
Many times in Christianity we have an apathetic approach to serving and loving Jesus and I believe it comes from people who choose not to LEVERAGE all that they are for who they claim to serve. How many times do we see people come through the church doors and spend months and years trying to bargain with God and his church? I'm taken back with how people choose to start out with the smallest part of themselves possible given over to Christ. I talked about how these people really only invite Jesus into the foyer. Jesus is never allowed to check out the whole house. It's a shame.
Some people have so divided their lives that they keep Jesus at bay in the foyer or living room without ever letting him see it all. Unfortunately Jesus is never invited to the bedroom where the intimacy of marriage is carried out... He's never invited to look into the closets where all of the BAGGAGE is stored. People don't want Jesus to be in the bathroom where the coping medicine resides.
Today I challenged our people (and therefore was challenged as well) to LEVERAGE it all on loving God. What will be written on that piece of cement in a field that holds our bones? What is to be made of our existence? Will we LEVERAGE it all for love?
I'm convinced that we must teach people HOW to LEVERAGE it all. People need to know that the greatest thing Jesus said we could do is LEVERAGE and the local church is the LEVERAGE HOUSE where we come together to get encouraged and equipped to LEVERAGE it all for HIM.
"Jesus, let me leverage it all for you. All my being. I don't want to be in this thing for anything I can gain. I want to know when it's all said and done that I utilized every asset and every faculty to the best of my ability as leverage to bring you glory and make your name famous."
posted by Tally Wilgis @ Sunday, February 26, 2006

links to this post


No... Literally!
If you have any doubt that we humans are not meant to live with boring and dry environments... look no further...
Creating Passionate Users has a great article.

So there you have it folks. Stale environments are bad for your health! Go to a creative church!
posted by Tally Wilgis @ Monday, February 20, 2006

links to this post


My little boy turned 7 months today.
Caleb is an amazing kid. I was having lunch with another church planter in our area today and I brought Caleb along... my friend looked at me toward the end of the meal and said "Man... this is the best baby I've ever seen..." He was referring to Caleb's content demeanor. Caleb is a chill baby and really only grunts or whines if something is really wrong. (Even if he wasn't that way I'd love him... it's just cool)
Last night we were sitting on the couch and Kristy had Caleb on her lap. I had my feet up on the coffee table and Caleb reached down to touch my toe. He grabbed my toe and then looked at his own feet. He let go of my foot and grabbed his own... It was so cute! Kristy put her foot up and sure enough, Caleb grabbed her foot.
It was so wonderful to see him in discovery mode. To see him connect the dots between my feet and his. This is part of the awe and wonder I think we lose as adults. This is why we MUST keep discovering as adults. READ!!!! Explore!!! Scuba Dive... do something!
Because each time you do something new and you have that "ahh haaa" moment... you get closer to God. You say "wow.... Abba (daddy) I see the connection now..." It's in these moments when he's magnified in our eyes and when our world becomes a little larger and smaller at the same time.
Talk to Abba today... thank him for all of the things you've yet to discover about Him and about this world he's placed you in... about yourself... about your family... the joy of discovery is an exciting road ahead in your life... and with it comes the child-like faith for which our Daddy longs.
posted by Tally Wilgis @ Monday, February 20, 2006

links to this post


I'm firm in my belief that appathy in the Christian life comes because people believe that Salvation comes in a prayer when we were young and not every moment we fall from grace.
If we truly realized each of our sins and the power that each sin has (in and of itself) to seperate us from Jesus, we'd become ever-presently aware of his saving grace in our lives.
We'd truly know that Jesus was with us in the NOW of our lives and that our response could only be to praise and obey.
He's an amazing God with amazing power and we are his children, his representation, his church.
posted by Tally Wilgis @ Sunday, February 19, 2006

links to this post


The YMCA Heat took one on the chin today. It was BAAAD. We lost 24-12. Our big-time shooter wasn't there today. I don't know why...
Anyway, I still thought we'd win this one hands down... we have a pretty tall team for this age group and a couple can shoot.
The down side is that our 'big-time shooter' is also our most aggressive player. Most of the rest of the team are players who aren't very aggressive so they give up big-time rebounds. We were probably outshot 50-14 (don't know, just a guess).
Anyway, I had to put on my happy face and not let the troops know. The truth is... most of them don't care. They like having fun and I like them liking to have fun. So, when it's all said and done... we lost but who cares. The kids had a great time and so did I (almost).
Only 3 more weeks to go. I will miss one week due to travel so I'm down to my final 2 games.
"1-2-3...GOOOOO HEAT!"
posted by Tally Wilgis @ Saturday, February 18, 2006

links to this post


If you know his name you are cooler than me.
I don't suscribe to the 'emerging church' magazines, t-shirts or blogs but I do enjoy many of the conservative branches for their missiology, commitment to scripture and devotion to contextualization of the gospel.
Anyway,
Andrew Jones had a great post today
that is worth reading. I encourage you to read it with passion and pause. Pause a lot. Let some of his phrases sit on the tip of your brain before swallowing. Very good stuff.
via Scott
posted by Tally Wilgis @ Friday, February 17, 2006

links to this post


Batterson is the man.
Mark Batterson is the founder of (
National Community Church/TheaterChurch.com
/
BuzzConference.com
/
GodIpod.com
/
Evotional.com
)
I've come to appreciate Mark from afar. Several years ago when I started to consider church planting I believe it was
Ben
who pointed me Mark's way. Reading his story I saw a determination that I admire.
My life's experience has ALWAYS been of an overcoming nature.
Mark's story of NCC really appeals to me.
They had next to no one in their first year. They had nothing when they moved to D.C. and yet they kept at it and made it happen in an area that most people claim is near impossible to penetrate.
Mark is someone I could see myself learning a ton from. I tell ya, this guy challenges me big time. He's always innovating something and constantly writing.
Now
today he kicked my tail on his blog
by talking about his schedule.
It kicks my tail for a few reasons:
1. I too get bored if ministry gets to be 1 dimensional... it's freeing to read that from him.
2. He's focusing on several things which means he's not drowning in details for any one thing
3. He's up by 5:30 a.m. I'm not.
4. He's found his pulse... I don't think I have yet.
5. He's a mad writer. I want to be that.
6. He
writes
everything
like this
... it's just
plain cool.


Ed Young sent me a free book!
Well, I'm sure he didn't but Victoria from
CreativePastors.com
did. I'm not sure how I got the honor but I'm very glad that I did. I'm putting this to the top of my reading list and hope to get at it this weekend.
Ed Young
is another of the guys I admire in ministry for what he brings to the table and how he brings it.
I love his brutal honesty and commitment to doing it right.
He's a guy who could have sat on his blessed assurance but didn't. He (as his siblings) has gone out and left his own fingerprint on this world on behalf of Christ. I've seen him in several different venues and I appreciate how his team supports him. It says a lot about his leadership to see that kind of loyalty. Anyway, I'm looking forward to jumping into his new book
"The Creative Leader"
BY THE WAY:

Both of these guys will be at Buzz
Now if I can just get a room near DC for under $400....hmmmm
posted by Tally Wilgis @ Thursday, February 16, 2006

links to this post


Speaking of
Buzz
...
We're trying a little buzz-raising ourselves. Our new marketing pieces have gone to print as of Friday. We'll be targeting 10,000 homes (3 times- first weeks of March, April, May)
March- Grand Opening in our new location
April- Easter in Chesapeake
May- Mothers Day (and a little about a Memorial Day service)
I recently purchsed "EasterInChesapeake.com" and we're going to use it to promote our Easter outreach plans. We're doing a Community Easter Egg Hunt, Concert for Youth and Easter Services as a part of our 'EasterInChesapeake.com" promotion.
We've just recently started the web work for it... It will be a simple site with info about the church and events as well as contact info and links to the church site. Just giving enough info so that people know what we're up to and how to get involved.
I also gave our people our "Fingerprints" flyer. I stole Ben's Christmas Catalog idea and put out a very simple version that identifies immediate spring-time outreach needs. The total came to about $15,000 for what we want to do in both the immediate and 1 year commitments (an ongoing community movie day and in-mall advertising).
I'm praying that our people respond generously. We're giving them 2 weeks to soak it all in and pray about their best gift and then we'll take up the pledges/gifts and see where we stand. I'm expecting things to pick up for us and this past week was the busiest (and most rewarding) in almost a year. I feel things coming together... It's about to get fun.
posted by Tally Wilgis @ Monday, February 13, 2006

links to this post


Y-I

2.10.2006
Recently both Fellowship church and subsequently National Community Church did a series based on the question that every 4 year old has "WHY?"
Today on Kaleo Bill's blog... he asks "Why Blog".
I tried to reply to Bill's post but I was sent to a blog purgatory for "questionable content". I promise that I had nothing so terrible to say... but anyway... here is my answer to the question of Why I blog.
Share my skull...
Honestly one of the reasons any blogger probably blogs in the first place is because they are arrogant enough to think that they may have something to add to the world's dialogue or they just want to add their slant to life's epic drama. Maybe it's a subliminal reaction to the question "Why am I here?" or "What do I know?" or "Am I intelligent?"
okay, now for the pragmatic stuff :)
History's sake
... it's sort of a time capsule. I have almost 3 years of history now to look back on. It's exciting to see that. Its an easy way to journal some of these things.
Pastoral Networking.
By letting the world in on some of my situations (good and bad) I am able to find out that others struggle with the same things or others are able to help. Recently I was given a bunch of materials from guys who read about our children's ministry situation. This would not have come apart from blogging.
Release Valve.
Writing things down gives a sense of closure to some thoughts. It's a way to say "okay, I have that out of my mind... moving on"
Relationships.
I've made a few friends exclusively through blogging. Doing what I do, there aren't many people I connect with locally. Yes there are other planters but we don't think anything like each other (save maybe 2 guys). They are great guys but we just don't 'click'. The blogs allow me to put my mind out there and people who read and comment back are obviously connecting with my mind. Usually once we begin talking we find that we enjoy each other and can offer perspective. I've had a TON of phone and email conversations that came exclusively from blogging.
posted by Tally Wilgis @ Friday, February 10, 2006

links to this post


Bob Franquiz
has a good series of posts going right now comparing church planting to television shows.
Based on an earlier reading of Bob's post... Tonight after
watching "Bones"
I began to compare life to these shows that I enjoy. The thing we like about the shows we watch is that there are always twists and turns along with the side drama, a little romance and humor but in the end we know everything is going to be okay.
People want the same thing. People want to know that in the end it's going to be okay for the main character (SELF).
I've been talking for nearly a month with a Cancer patient... I've never met her. She's a friend of one of our members. The member gave her my phone number after this woman had questions about death, heaven, healing, etc.
During our conversations the theme that comes up is the idea of the unknown. So many questions, no matter the topic are about the mystery of life and of God. This is natural for all of us. You see, we want to know that it will be okay... even if we die we need to know that it will be painless, quick and we'll be with Jesus and our family right away. We want to know that like our favorite TV show... it will all be okay in the end.
For most who read this blog, it will. It will be great in the end. For many however who live in our neighborhoods, drive on the same roads, eat at the same places, serve us our food, collect our trash, deliver our mail, teach our children, sell us groceries... etc... for many of them it will not end as sweet. Jesus is a life-giver and a show-stopper. He's able to provide the comfort that we all need and He in our lives can make everything all right. We all (like my friend) have limited days. Let's use them giving away the greatest message of hope the world has ever seen. Lets live everyday as if it's God's 24.
posted by Tally Wilgis @ Wednesday, February 08, 2006

links to this post


I figured today I'd share with you the company we use for our business cards. Our business cards double as invite cards so for me it's important that they are very sharp and stand out from other things that get tossed on the night stand when people clean out their pockets. They are 4 color both sides with a glossy look/feel to them.
Here is the design work for our most recent card.
Total Cost: $215 for 5,000 cards (cost included designer who worked on my project until I was happy with everything) You can also get them in sets of 2,500.
The company we use is called Church-Marketing.com
Contact: Kristal@church-marketing.com
posted by Tally Wilgis @ Tuesday, February 07, 2006

links to this post


Some kids pick up on their parent's words, others pick up on their facial expressions... my son has picked up the internet....
(family and friends, new pictures are up at WilgisFamily.com. Hit the picture on the bottom left for the new pictures)
posted by Tally Wilgis @ Sunday, February 05, 2006

links to this post


Our kids did a fantastic job today! We scored 22 points. The only problem was that the other team also scored 22 points. So, a tie.
Some fun facts:
- We played against our local weather man. Yeah... the opposing coach (who is pretty intense by the way, is one of our local TV weather guys)
- Our kids scored 22 after last week we scored 6. Vast improvements.
- We still couldn't play defense outside of the box (paint) but we did play pretty well anyway.
- The weatherman complained about 5 different times.
- The weatherman tried told one of my girls "scoot closer to shoot" right before he then told on of his players... "step out and take the ball from her"
- The game was 20-20 with 21 seconds left. I called timeout when we had the ball at the top. I drew up a play to get a kid who hadn't shot most of the game the last shot. It worked to perfection and the little guy scored!!!! with 4 seconds left.
- Weatherman called timeout and brought his kids up. They passed it to a shooter, shot, missed, rebound, shot at buzzer... went in. (The buzzer sounded with the ball in his hand but I'm a Pastor and it'd look pretty stupid for me to whine about it... the kids are 2nd and 3rd grade).
- So our team goes away without a loss and having played so much better! I'm very excited for them.
I'm coaching this league to meet and get to know more families in our community. Pray that I'm able to be a positive witness to each of these families. They all seem to be great and I'm looking forward to getting to know them more this year!
posted by Tally Wilgis @ Saturday, February 04, 2006

links to this post


"God is in the slums, in the cardboard boxes where the poor play house… God is in the silence of a mother who has infected her child with a virus that will end both their lives… God is in the cries heard under the rubble of war… God is in the debris of wasted opportunity and lives, and God is with us if we are with them."
- Bono, Feb 2nd National Prayer Breakfast

Read The Full Transcript Here
I've never been a part of the U2 movement. I don't know a ton of their music, I've never had a desire to go to their concerts... I can appreciate them but I've never been swept away. From 5-7th grade I listened to rock and from 7th grade on I've been huge into Rap. During my college years I transitioned to an appreciation for all types of music and now I even enjoy 'old people music'... I like songs that make me think... my favorite musician is actually
Rich Mullins
. But I digress...
I supported
the ONE campaign
and I still believe passionately in the causes put forth by Bono this Thursday. I was very impressed with his public speaking ability. I know, I know, he's a self-proclaimed and 100% world-verified rock star but his speaking ability is built more than simply from the ability to stand in front of large audiences.
Bono put forward a few themes that hit me... some for a 2nd or 3rd time.
1. Religion gets in the way of God.
Yes, it's odd, having a rock star here—but maybe it's odder for me than for you. You see, I avoided religious people most of my life. Maybe it had something to do with having a father who was Protestant and a mother who was Catholic in a country where the line between the two was, quite literally, a battle line. Where the line between church and state was… well, a little blurry, and hard to see.
I remember how my mother would bring us to chapel on Sundays… and my father used to wait outside. One of the things that I picked up from my father and my mother was the sense that religion often gets in the way of God.
2. Mans Law must aim to reflect God's voice in justice.
Preventing the poorest of the poor from selling their products while we sing the virtues of the free market… that's a justice issue. Holding children to ransom for the debts of their grandparents… That's a justice issue. Withholding life-saving medicines out of deference to the Office of Patents… that's a justice issue.
And while the law is what we say it is, God is not silent on the subject.
That's why I say there's the law of the land… and then there is a higher standard. There's the law of the land, and we can hire experts to write them so they benefit us, so the laws say it's OK to protect our agriculture but it's not OK for African farmers to do the same, to earn a living?
As the laws of man are written, that's what they say.
God will not accept that.
Mine won't, at least. Will yours?
3. It's not about charity, it's about justice.
Let me repeat that: It's not about charity, it's about justice.
And that's too bad.
Because you're good at charity. Americans, like the Irish, are good at it. We like to give, and we give a lot, even those who can't afford it.
But justice is a higher standard. Africa makes a fool of our idea of justice; it makes a farce of our idea of equality. It mocks our pieties, it doubts our concern, it questions our commitment.
6,500 Africans are still dying every day of a preventable, treatable disease, for lack of drugs we can buy at any drug store. This is not about charity, this is about Justice and Equality.
Because there's no way we can look at what's happening in Africa and, if we're honest, conclude that deep down, we really accept that Africans are equal to us. Anywhere else in the world, we wouldn't accept it. Look at what happened in South East Asia with the Tsunami. 150, 000 lives lost to that misnomer of all misnomers, "mother nature". In Africa, 150,000 lives are lost every month. A tsunami every month. And it's a completely avoidable catastrophe.
-------
I was personally challenged today as I watched the prayer breakfast on
CSPAN
. I couldn't help but to think "While conferences teach on budgets and technology we have millions of people dying around the world. What will I do in my corner of the world to help stem the tide?"
posted by Tally Wilgis @ Saturday, February 04, 2006

links to this post


So I get an email from Ben this morning....
"
Tally,
since you liked my header, i thought I'd make one for
you... =)

B "

Honestly... I didn't have to open the attachment.  I knew what he had done... I started smiling as soon as I read his text.



I'll never live this one down...

posted by Tally Wilgis @ Friday, February 03, 2006

links to this post


So this morning I ran some errands for the church and went to the
Christian book store.
.. I found myself reading some
Jonathan Edwards
and
Oswald Chambers
(The two books I picked up today). As I WAS READING... I got a call from Lyle. Lyle is a Coastguardsman in our church who recently had a son named Joshua. (Pictures below in a previous post)
Well, Lyle calls me and says "Hey Tally... Wanna play golf this afternoon?" I said "Sure" (I mean I want to be a good Pastor who tends to the flock and what better way to minister to someone than to spend several hours walking and talking... --sarcasm--) So from 2-5 Lyle and I found ourselves out on the linx.
Now it would so happen
that as I'm pulling up to the course I get a call from
my boy Tadd
. --By the way Tadd, I'll be the first to come to your conference one day-- We talked for a little while but I kept thinking in the back of my mind "Great, Tadd calls and I'm headed to the golf course... I'm killing my street cred."
Then about halfway through my round I'm near the lake looking for my ball (a seagull took it and dropped it in there... really... okay, not really) and I get a call from of all people
THE Ben Arment!
This is the guy who Pastors one of the churches on
Tony Morgan's Radar
! Anyway I take the call only to have to report to Ben that yes... I'm on the golf course. I struggle to come up with some brilliant way to defend myself but it was too late... we both knew it... it was over... again I became a shadow of myself if only for a moment... I was a Pastor on a golf course...
So there you have it. I've golfed maybe 3 times in 3 years and today two friends call and their whole perception of me changes in an instant. They have now lumped me into the category of "typical Pastor". Dispite the fact that my score would have been better if I could have kicked my ball around... I'm going down as the Pastor who was on the golf course in the first week of February.
As if THAT weren't bad enough...
my friend in ministry
Mr. Ben Arment threw me under the bus today on his blog over our 1 minute conversation... :) His readership is in the millions so if something were to ever happen at Focal Point, I would never be able to work in ministry again... Hmm.... maybe this is a direct attempt to get me on his staff..... hmmm...
I hope to redeem myself by attending a few conferences with Ben in the upcoming months. Between
Orlando
and
D.C.
I hope to justify my existence as a Pastor to my friend Mr. Arment...
By the way Ben... should I bring my clubs to the conferences? :)
posted by Tally Wilgis @ Thursday, February 02, 2006

links to this post


Okay... so our basketball team had our first game last Saturday. I had my team primed and ready.
The first play that we were on defense we totally psyched the other team out. During my previous two practices I had my team practice "Breakdown" on defense. Bascially it was a drill to get them into their defensive stance quickly. So I yell "Defense, Breakdown" and I've trained my team to breakdown and yell "HUH!".
Well, the poor kids who we played against this week had never experienced this in their lives. The little guy (it's 2nd and 3rd grade) brought the ball down, I called our team's attention and they responded with a loud stomping and "HUH!".
The other team all looked so shocked.... They froze... It was so funny.
Anyway, after the shock and awe we rattled off an astounding 6 points and had the lead at 6-2 for a long time. Ultimately though the rules killed our team.
Well, apparently in this league the kids cannot go outside of the 'paint' to play defense. I knew this... but what I didn't realize was how easy the opposing coaches would use this rule. My team was great on the boards... they were good with passing the ball and taking shots... they were great if a kid came in the paint to play offense but they were helpless against their kids shooting from 2 feet outside of the paint. The coach was able to set their entire team up, get the ball to their kid who can shoot and then my team had to wait and watch for their kids to take the shot.
I'M GOING SOMEWHERE WITH THIS.
I hate rules that have nothing to do with the sport. I hated having my kids learn great defense and learn how to play the game (which is how we were coaching) only to lose because the other team can never be pressed and can always give the ball to their best shooters. Basically it's not coaching the game of basketball. It's coaching the game of "lets set our team up and take a bank shot from 4 feet away.
How often in our churches do we distribute rules that aren't in God's priority list... they aren't the nature of our faith?
I've seen to much of it myself. I'm over rules based church. I want the life that God blesses... I want the abundant life... the 'Wild at Heart' type of life... the life where it's okay for me to get my feelings hurt if I do something wrong... I can handle getting the ball stolen... it helps me learn.
I've had a saying for a number of years about my reflections on most churches.
"Pastors put walls where Jesus made paths."
We feel so obligated to see that our people do right by Christ that we make up extrabiblical rules to keep them in line. Then when our people do not follow these rules we abandon them and say "you don't love God." No... I think many of these people love God just fine... it's the church they can't stand.
I'm looking for the day when Christ's church preach a Christ of love, humility, passion and compassion... when we destroy legalism in all its forms and do great work to replace it with Kingdom mindedness and 'freedom in Christ'. I'm looking for the day when we dont' force new belivers to get two bibles when they check in... 1. the Holy one and 2. a copy of the rule manual of their local church breakfast club....
Okay I'm tired... need sleepy, must get rest.... zzzzzzzzzzz
posted by Tally Wilgis @ Thursday, February 02, 2006

links to this post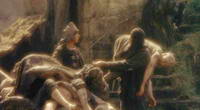 I had flashbacks of
Monty Python's 'Search for the Holy
Grail'
as I thought of the title for this post.
I've been away from the blogging world for a few days... no announcement, no press conference, no real reasoning... just have.
So I'm letting you, the avid reader know that I in fact am not dead.
posted by Tally Wilgis @ Thursday, February 02, 2006

links to this post