I've noticed the need for trust building within the Christian community that exists in Baltimore (like anywhere else).
People who have been on the ground are naturally suspicious of
motives
and whether or not you'll
really be here
in the long run. It's okay.
It's natural and expected.
The fun part is when a light bulb goes off and they relax. It's a natural and enjoyable process.
That led me to thinking about
how foolish we can be
when launching a new church in a community.
We come in and
expect that the public will trust
that we mean well when we start a 'new church'.
Some natural questions emerge:


1. What the heck is a new church?
The south is flooded with 'new churches' these days. Around here it's an oxymoronic statement. Churches are many things but 'new' is not one of them.
2. Are you a cult?
Sad but true. The question isn't always phrased this way. It's really a question more like "What religion are you?" Even when you say Christian they may say "Yeah, but what religion." Well meaning people without much Christian background see denominations as varied religions. It's arrogant of us not to understand their concern and from where their question arises.
3. What good is a 'new church'?
For some people this is a big hurdle. Since when have churches added anything to the fiber of a community? It's only with time and consistency that a community will see that you have a different perspective of what a church should be in a community.
4. Wait a minute. A new church? Where is the building being constructed?
When we talk of starting a new church we have to keep in mind that people with little to no religious background will only think of 'church' in terms of a facility. This may be one of the biggest hurdles you'll have to climb for many people. In a secular society the church is anything but the people. Saying "a new church" is like saying "a new fire station". We don't say a fire station is the people but we are trying to get people to see that 'the church' is a collective of people.
All of this reminds me that if my Christian brothers and sisters need to take time getting to understand me,
my community will need that same time.
This will never come from demographic studies or purely event driven means. This is a conversation that must happen one person at a time as well as organizationally.
Right now I'm considering what our website looks like as we introduce ourselves to the community.
Both form and function. We're having to keep in mind these and many other questions our community will have about us and do our best to answer them as our 'first step' toward becoming part of the fabric here.
Truthfully, the best inspiration will not be found in looking at other church sites.
It'll come from allowing our site to
reflect the in-person conversations we have in the community.
This philosophy needs to be in all of our communication. We've got to be intentional in our presentation that it's not about 'telling' anyone anything... it's about conversing with them to build that trust.
If the Christian community needs some questions answered before they buy in... surely those outside of faith deserve our attention to building trust as well.
posted by Tally Wilgis @ Wednesday, February 25, 2009

links to this post


Great video from
Craig Groeschel
via TonyMorganLive.com
Bookie
from
LifeChurch.tv
on
Vimeo
.
posted by Tally Wilgis @ Sunday, February 22, 2009

links to this post


One of the coolest things I've done over the last year or two has been to get involved with Kiva.
Tonight
I just invested
into helping two people make their dreams come true while providing food for their families.
In July of 2007 I blogged about Kiva here.
You can check out what I thought then and I'll give you a refresher below:
Basically I want to encourage you to sign up and invest.
The money is repaid back to you into an account you can then draw from or use to reinvest. Kristy and I have a habit of leaving our money in the account and just reinvesting. The whole concept is called microfinance. If you're not familiar,
check out Kiva's explanation here.
At the end of the day
if you think your life is being disrupted
by the economy you may want to
check out Kiva
and read the many stories out there of people who are in far worse shape than you will ever likely experience. Then take a second and
see if you couldn't spare a few bucks
to give it a test run. It'll become
one of the most rewarding
parts of your month and it'll give you
a positive addiction that you'll thank me for later.
Here's how Kiva works:
Choose an Entrepreneur, Lend, Get Repaid
The below diagram shows briefly how money gets from you to a developing-world entrepreneur, and back.
1) Lenders like you browse profiles of entrepreneurs in need, and choose someone to lend to. When they lend, using PayPal or their credit cards, Kiva collects the funds and then passes them along to one of our microfinance partners worldwide.
2) Kiva's microfinance partners distribute the loan funds to the selected entrepreneur. Often, our partners also provide training and other assistance to maximize the entrepreneur's chances of success.
3) Over time, the entrepreneur repays their loan. Repayment and other updates are posted on Kiva and emailed to lenders who wish to receive them.
4) When lenders get their money back, they can re-lend to someone else in need, donate their funds to Kiva (to cover operational expenses), or withdraw their funds.
posted by Tally Wilgis @ Tuesday, February 17, 2009

links to this post


posted by Tally Wilgis @ Tuesday, February 17, 2009

links to this post


I'm not talking baseball. I'm talking shattering the norm.
There is a lot of talk about a glass ceiling when it comes to opportunity. Often times in a city there are glass walls.
Christians talk a good game
about cooperating
but there are glass walls (if not concrete) that prevent people from TRULY putting their pride down and partnering to make a Kingdom difference. Our "fellowship" most of the time is over
chicken wings, gossip and a bad speech.
That kind of 'fellowship' among Christian leaders does nothing! It's a waste of time and money and ultimately
gives Christ a bad name.
There are times however when the right pitch is sounded.
When the people of God in a community rise up and partner with one another to do an amazing work.
It starts as a small sound
but the pitch gets higher and higher and the
frequency gets narrowed
to just the right point when we can shatter our own limitations and the Holy Spirit is freed to lead us. Here in Baltimore I get a sense that the tuning fork has been struck. I get the sense that the pitch is growing.
I get a sense that we're about to shatter some glass around here.
Will everyone come along? No...
to some people the sound we're bringing is too loud, too intrusive or maybe they are tone deaf. I don't care. What I care about is finding those people who God is working on already and
connecting them together so we can make some noise
that gives the Enemy the fits.
I want to see people come to know Jesus and see those Jesus followers go out and shake up this city.
When I say we're here to make some noise... I know what kind of noise we want to make.
A noise that shatters the status quo.
Too many churches want to make noise but they end up being white noise... just fading into the background. That's not our aim and that's not satisfactory here.
We're coming to shatter the glass between us and a city forever changed by the love of God.
Thought you'd like this ... the science behind shattering glass.
posted by Tally Wilgis @ Thursday, February 12, 2009

links to this post


Many times in scripture I see the theme that God uses a remnant.
In our pop-church-ceo-modeled-star-of-the-show-turn-key church world
we tend to focus on the one dude
who packed up his stuff and saw God sweep a city or a town. Whether that one dude sold tomatoes, preached revivals or led a group of college kids to start a church... we focus a lot on the one dude.
What that one dude knows in his heart
is that the only way it happened was because
while God was grooming and preparing him, God was at work somewhere else
grooming and preparing a people who would become
the main thrust of a movement.
Nehemiah didn't rebuild the wall and a city,
he simply gave a rallying cry to a remnant.
I'm overwhelmed with excitement as I meet people here who are longing and thirsty for the vision God has birthed in my heart.
I want you to know now that if you ever hear of a great move of God that has anything to do with what we're doing it is because long before I arrived God was moving in the lives of people here and preparing their hearts to be a part of that move.
Mark my words.
When God breaks it loose here it will not be because I am some 5 star Christian leader... it's because God in his sovereignty is up to something here and he happened to connect me with some others here who were
simply waiting and longing and praying
for a church like ours to hit the scene.
There is indeed a remnant here and I'm humbled to be getting on the scene for such a time as this.
posted by Tally Wilgis @ Thursday, February 12, 2009

links to this post


As the Chruch Starter here with
TheBaltimoreProject.com
one of the things that has consumed much of my time the last few months is the area of
partnership development.
We've been blessed with some
great partners
already that have allowed us to jump past the 60% mark in financial commitments over our first two years. We have a handful of
potential partners on the line
and in the next few weeks
I'll be out again casting vision
with hopes to develop a few more.
What we've been trying to do is offer as many types of avenues of participation as possible. Our partnerships are coming from
every source imaginable
: individuals, small groups, churches, organizations and businesses. Our team members are talking to their personal networks as well as each making sacrifices to make this thing happen. We know that many churches do not currently have finances set aside for church planting but
most churches DO want to help spread the gospel in a place that needs it.
We're working to provide
all types of aveneues
to be a partner in this church start. One of my goals has been to provide
as many "on-ramps" to partnership as possible.
I'd like to share with you one such opportunity today!

Let me introduce to you "The VBS Project"!
The jist is this... each summer churches across the country hold their annual "VBS" and at the end of the week there is usually a "VBS Offering". This offering is commonly given toward a missions project at the descression of the VBS Director or team.
The offerings can range between a hundred bucks and a few thousand depending on the size of the VBS.
What we're attempting to do is reach out to VBS Directors and Children's Ministers across the country to pool their resources and contribute to our church start in Baltimore, MD.
While $200 may seem like a small amount to give to a misionary we see the value in cooperation! What if your child's VBS or Kid's Ministry could contribute with kids around the country to outfit a kids ministry for the kids of Baltimore, MD?
What if a church plant was able to reach out to more kids because of the effort of kids from around the country?
That's the vision of TheVBSProject.com!
Kids cooperating to reach out to other kids.
I want to encourage you to
go to the site
and download a full color PDF and distribute it on our behalf. Get it in the hands of those who make decisions for your church. ALSO IF YOUR CHURCH DOES NOT DO VBS- we're releasing a second site in a few days that is identical but promoted toward partnering as a part of your weekly service.
Some features coming to TheVBSProject.com are
videos
from our Director of Children's Ministry -around whom the cartoon was loosely designed, a
listing of participating churches
and a calendar for when those churches will do their VBS.
In the next few days we'll unveil another way to participate with us. This one is geared toward adult small groups! We're really praying that God allows these avenues to be creative opportunities for people to partner with us
as we bring life to the people of Baltimore!
What are you still here for?
Go to TheVBSProject.com
right away!
posted by Tally Wilgis @ Tuesday, February 10, 2009

links to this post


We're approaching the launch of a few websites related to our church here in Baltimore. Since the fall we've been running everything through
TheBaltimoreProject.com
but this week we expect to unveil two sites
to allow churches and small groups around the country to help in some creative ways.
Also in the next week or so we'll launch our church site.
Beginning in March our outreach and marketing campaign will begin to ramp up so our goal has been to launch our public site at that time.
Things are rolling here in Baltimore!
posted by Tally Wilgis @ Saturday, February 07, 2009

links to this post


Tonight Cman was fired up and he wanted to wrestle and box. As we were play-fighting on the sofa I looked over and noticed the
box from Thomas Nelson
siting on the coffee table. My mind raced back to childhood when my friends and I would make Championship wrestling belts out of card board. We would pretend to be Rick Flair or Hulk Hogan and stage wreslting matches around the house or back yard.
With that as my back drop I grabbed a pair of scissors and a magic marker... then I went to town! Cman got a quick Championship belt just before he started to come after me :)
posted by Tally Wilgis @ Friday, February 06, 2009

links to this post


If you are a man or woman of God who has a vision for your life I have something you should know...
vision villains will want to eat your lunch.
You may already know this but that's not the thought of the day. The thought of the day is that
vision villains do not all look the same.
In fact, some of the people you'll need to avoid are people who seem to line up with where God has called you. They will invite you to join them in what they already have going. If what they have going however is not what God called you to,
you may find yourself shaving off the uniqueness of why God called YOU.
If your relationships
explicitly or implicitly require you to round the edges
of what God has instructed you to do I am afraid you've found not a friend but a vision villain.
There are plenty of people doing nice things but there is a reason you are called.
So if you're
called by the creator of the universe
to do something, do it.
Do all of it.
Do not falter because of man's opinion and do not falter by giving up your uniqueness.
posted by Tally Wilgis @ Friday, February 06, 2009

links to this post


Matthew 22:37-40
37
And he said to him, You shall love the Lord your God with all your heart and with all your soul and with all your mind.
38
This is the great and first commandment.
39
And a second is like it: You shall love your neighbor as yourself.
40
On these two commandments depend all the Law and the Prophets.
"Missional followers of Jesus take seriously Jesus' claim that loving one's neighbor ranks right up there with loving God." (McNeal, 31)
With this piece of scripture and this quote
Reggie McNeal begins to put a mirror in the face of the church and show us just how far from Jesus
we've gotten. Fortunately for us
he doesn't leave us out there
but rather gives The Church
"a new scorecard"
so that we can begin to be The Church once again.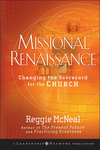 Reggie does the church a favor.
There are two thoughts I want to pass along.


1.
Western Christianity is far behind East on the proper measurements of health in the Church.
We truly are playing with the wrong score card. When we consider the global Christian community we quickly find that there is a move of God happening
with or without us.
We've got to learn how to keep score again.

2. The unrepentant world is ahead of the church when it comes to loving people as Jesus called us to love.
The reality is that God is moving in the world and many of us in the church building are missing His move because we're focused on what's happening inside the walls (Butts, Budgets and Buildings)
As we start
Captivate Christian Church
here in Baltimore
I found Reggie's book to be a timely read.
So much of our heartbeat is articulated in this book. Some would call some of our work "missional".
I just call it Church with a capital "C".
We've got to become a people concerned with love again.
Reggie gives us a new scorecard to help us get there.
------
BIO:
Reggie has contributed to numerous denominational publications and church leadership journals, including
Leadership
and
Net Results
. His books include
Revolution in Leadership
(Abingdon Press, 1998),
A Work of Heart: Understanding How God Shapes Spiritual Leaders
(Jossey-Bass, 2000),
The Present Future
(Jossey-Bass, 2003),
Practicing Greatness
(Jossey-Bass, 2006), and
Get A Life!
(Broadman & Holman, release date Spring 2007).
Reggie's education includes a B.A. degree from the University of South Carolina and the M.Div. and Ph.D. degrees both from Southwestern Baptist Theological Seminary.
Reggie and his wife Cathy, have two daughters, Jessica and Susanna, and make their home in Columbia, South Carolina.
reggie.mcneal@leadnet.org
FULL BIO HERE
posted by Tally Wilgis @ Wednesday, February 04, 2009

links to this post


What's up friends?
I'm dropping this note to give you an update on things here at
The Baltimore Project.
- Within the next week or so
I will share with you some amazing news.
God has been gracious to our efforts and I'm pumped to let you get a glimpse of what He's doing.
- Our daughter is amazing.
Continue praying for Kristy as she's the food provider and has been getting the least amount of sleep. We go for a check up later today for Ainsley.

- Over the next week I will also unveil two new websites.
Each site will give you a specific way that you and your church can get involved in The Baltimore Project. The strength of these efforts for us will be in the COMBINED effort of 100 churches (our goal) and not in any one church or small group lifting a large load. I'm seriously praying that we get 100 churches or small groups to catch the vision for these. I'll share them with you later.
-
I'm going to get back on the road.
Without a doubt our best awareness was during my first tour in November. With our move, Christmas and then the birth of my daughter Ainsley I have not been able to get back out on the road. That all changes this month. This week I'm putting together my schedule and I want you to help me with where to go. At the end of February I'm going to head down to
SUNNY SOUTH FLORIDA!!!
I'm positive that I'm in the Miami/Ft.
Lauderdale
area as well as Tampa. I'd like to find a few churches in Orlando to visit and make my way back down to Miami in time to fly back out. HIT ME UP if you know of some good church staffs I should check out or who you'd like to see on the tour.
- After Florida I'm planning two more spring trips.
One will be to the
Chicagoland
area where I'll soon be contacting some people you know and then I'm going to make a Texas trip. My hope in Texas is to visit a few places in
Dallas, San Antonio
and
Austin
and possibly
Houston.
Again, if you are in those areas and are open to having me stop by, let me know. I'm going to contact a few people in those areas as well.

- This is the month that most of our supporters will start their funding.
We're very grateful for those churches and individuals who have decided to make a financial investment in our work here. Please pray that God not only blesses their faithfulness but brings back their contribution many times over. If it were not for generous churches giving in these times, new churches wouldn't be able to get off the ground.

- If you, your family, your small group or your church
is open to
becoming a supporter
of
TheBaltimoreProject
I would love to talk with you. We have various ways to get involved and would love to have you and your team involved!
- We're still looking for about 6 mission teams to visit us this summer.
We have a wide variety of
activities
and would love to have your involvement in what we're up to in Baltimore.
posted by Tally Wilgis @ Monday, February 02, 2009

links to this post


posted by Tally Wilgis @ Sunday, February 01, 2009

links to this post