I'm humbled at what God is doing in my life and our work here in Baltimore.
I truly believe He has opened up opportunities and given provision I don't deserve. That's why I'm confident in what He is doing here.
I'm thankful for my family and how God has provided
for us as we transitioned from Virginia to Maryland almost seamlessly. I'm thankful for my wife who has sacrificed beyond measure to join me in this crazy calling to bringing the gospel to Baltimore. While we still are attempting to sell our house in VA, all other aspects of this transition have come off without a hitch and much of that credit goes to a strong woman of God named Kristy.
I'm grateful for the friends
who have come along to encourage me, give me advise and speak wisdom into my life. This season of preparation for launch has given me a much needed time of recalibrating and growth I have come to appreciate.
I'm grateful for the network God has allowed me to have.
I'm humbled and honored to have so many great men and women of God not only know about me but take time to talk with me at conferences, online or via phone. I often find myself and in conversation with friends who are several levels from where I am right now in ministry but I've gained strength from their belief in me and confidence enough to even pull me aside and ask for my advice. I laugh inside but I'm always glad to help if I can.
I'm grateful for the people we've been able to know in Baltimore already.
Coming home gives me the advantage of knowing the culture and knowing my way around. What it doesn't do is give me favor automatically with anyone. I'm so thankful to have gotten to know several local families who want us to succeed. I'm thankful to be getting to know my neighbors and excited that they've taken an interest in what we're up to. I'm thankful for the dozens of college students who I've gotten to know who are anticipating God breaking Heaven open on this town.
I'm thankful for the word of God
that gives us the instruction we need, the inspiration we thirst for and the power to impact the culture. Studying the bible with a longing to make an impact on a city has a way of transforming that time. Reading God's word with no intent to make an impact may be the fastest way to kill your soul. I've been reminded that this feeling of dependency and expectation is there for everyone who would chose to embrace God's word as a charge for today and not history about days gone by.
I'm thankful for the various partners
who have come to our side to show their support not only with word but with deed. The mission teams who have come and are coming as well as the financial partners who are sacrificing from their own budgets to make this vision a reality. We have a partnership from some of the biggest names in Christianity to some names that will never be known. Every single one of them are vital to this mission and every single one have boosted our moral and given us encouragement to move forward.
I'm grateful to the 7 summer missionaries
who are all college students coming to serve with us this summer. Four of these students are students at the local Towson University, one is moving to the area for this and two others are guys who have requested to live down in East Baltimore near our inner city location so they can minister to the community on their 'down time'. I'm inspired by these men and women who God has called to partner with us for the next 3 months. I pray I can invest in them the way they have already invested into me through observation of their actions.
I'm thankful for you readers
who continue to encourage me by supporting our work. Your emails of encouragement go a long way. Thank you for following along (and for reading this long post). I have a lot to be thankful for. You are counted among that number.
If you're interested in finding a way to partner with what God is doing here please visit any one of the following sites:
TheBaltimoreProject.com
TheVBSProject.com
KidMissionaries.com
ItsAChurch.com
CaptivateChurch.com
posted by Tally Wilgis @ Thursday, May 28, 2009

links to this post


God is moving in our work in Baltimore so I wanted to give you some insight.
At our inner city location
we've partnered with an after school program which will triple their capacity for reaching kids. The after school center is run by a Christian man who gave up his career in software development to purchase 3 row homes and start this after school program. They use biblical texts to reinforce reading comprehension, they use worship songs during their art time and they give the kids a free hot meal every day. Through this partnership we will provide them a facility M-F to expand their outreach opportunities and we as a church will be able to get to know more of our community as we provide an invaluable resource to the people of the community... an education. Please pray for us as we prepare the facility to code so that the licensing process will go smoothly.
Out here in Towson/Timonium
God continues to bless our efforts to provide college students with a place to grow in their faith or discover faith for the first time.
We had a total of 18 at our home last night for 'Cook Out and Dig In'. Each week we've been opening our home for college students from the area to come and read together the truths of scripture. We're walking through the book of Acts verse by verse. Last night we walked through chapter 3 and the students are loving it! Great discussion and application. The theme that keeps coming up in these early chapters is "witness" and the students who are coming are taking note. Each week we have new folks showing up. I don't think these students realize what move of God could hit here if they set themselves apart to build God's Kingdom. I can't wait for them to see it happen here!
God has given us favor with our neighbors
as well as we've been able to have discussions with folks right here in our community. Thus far people have been fairly receptive. As the summer progresses we'll continue to love on them and invite them into what God is doing here through Captivate. Be praying for that.
I want to thank all of our friends and partners around the country.
God has blessed us with so many who are encouraging and supportive. Thank you. Please continue to pray for wisdom as we are about to hit a season of making fast-paced decisions. We have to purchase equipment, do a ton of outreach events and get amped up for opening day just over 3 months from now. Thanks for your prayers!
posted by Tally Wilgis @ Wednesday, May 27, 2009

links to this post


I'm here in Lynchburg, VA this week for
Innovate Conference
. It's
Thomas Road's
take on a church conference.
In what has become
a sea of church conferences
I'm sitting here in my hotel room grateful to be attending this one. In the last year I've attended most of the major conferences and plenty of one-day seminars and I've spent countless hours listening to various MP3's from leadership gurus and strategists.
To put it mildly, I'm conferenced out.
So why attend Innovate?
Because I knew what I'd get and I knew I needed it.
In my eyes the name was somewhat misleading. Usually when you hear 'Innovate' you think flashy, tech-heavy, fog machines and expensive.
Today I have a new way to describe it. Biblical.
When every conference in every corner starts to run to be different and new...
it becomes innovative to return to scripture.
When everything is about the latest and freshest...
it becomes innovative to simplify and get back to the basics.
As we run to hear from the guys who've grown their churches to a million in under a year
it becomes innovative to attend a conference held by a church with over 50 years of ministry.
One of the ways I like to review what God is saying to me is to kind of mesh together the various themes I've heard and apply it to my life. If I were to summarize today's varied talks I'd come up with this thought:
"Get focused on the vision God gave you like you have 30 days to live and quit looking sideways to see where you measure up."
In a world of keeping-up-with-the-Joneses-Christianity... that's pretty innovative if you ask me.
If you want to review notes from the conference just go to www.summize.com and type in #innovatechurch to see what others are saying.
posted by Tally Wilgis @ Tuesday, May 19, 2009

links to this post


Yesterday afternoon my wife picked up our son from preschool. I returned home a little later to find that my little man had
a boo-boo on his left hand
where he had fallen outside at school.
As I looked under the band-aid I noticed that the damage was
a little worse th
an a scratch
. While it was nothing major, the boo-boo was actually a result from him trying to catch himself when he fell on asphalt. The worst part was that some of the
dirt and debris remained in his hand.
Off to the local Rite-Aid I went and got a few things to help him along including some
peroxide
. Have you ever tried to put peroxide on a 3.5yr old? Yeah.
So over the next hour I tried to talk to him about what was going to happen and the consequences of taking no action.
I wanted his participation with all that was in me. I made him laugh (and cry) but one thing I did was told him the truth. There is no easy way out of this. You're going to experience some level of pain.
You can experience a little pain right now or a lot of pain later as infection settles in.
Man... God used that entire hour or so to remind me of Himself.
Have you ever been there with God? You have a pain you don't want to endure and you ask God for every rational explanation but truly it doesn't matter. Your understanding of what God is bringing you through is as clouded as my toddler's judgment. It can all make sense but it doesn't feel good so we push back.
As my son did everything to get out of getting the wound clean I felt bad for him but
I love him too much to let the dirt settle in under his skin.
I knew (as the father) that the outcome for his temporary bliss would be far-reaching and far more damaging than the temporary discomfort he'd have to face.
So there we were. I took him to our back porch and sat his arm across my lap. I braced him for the pain but it didn't help.
My son let out noises like I have never heard before.
He screamed louder and longer... his face changed colors from pale to red to blue and back. As I cleaned the infected area he battled and pushed away and tried to interfere... but I'm his father. I knew that he had to experience this agonizing but temporal feeling if I was to see him come to wholeness.
After those 5 minutes or so of cleaning this wound I grabbed my son and hugged him tightly.
I held him close and whispered my love into his ear. We placed on his hand a "Cars" band-aid and he went into the house repeating to his mommy the battle that the peroxide was waging against the 'bad guy dirt' under his skin. He described the bubbles and the fact that Jesus was going to make him better.
It was done. For now.
My son may never remember this day but I will.
It was a reminder to me of the process our Heavenly Father puts us through.
He knows best and he loves us far too much to allow us to let the small things in our lives remain if they can cause us damage in the long run.
If you're in a season of discomfort, if you're feeling like God is actively pouring peroxide on your wounds please do not run from that.
Don't walk away from your father who is cleaning your wounds to get you back out on the playground of life.
As you read this note just place yourself in my son's situation as the wound was cleaned. You're in the arms of your father and he's whispering to you that things are going to be okay. Your Heavenly Father loves you and is working to see you healthy and well.
Allow him to address your wounds.
These are some lessons I learned last night from a 'boo-boo'.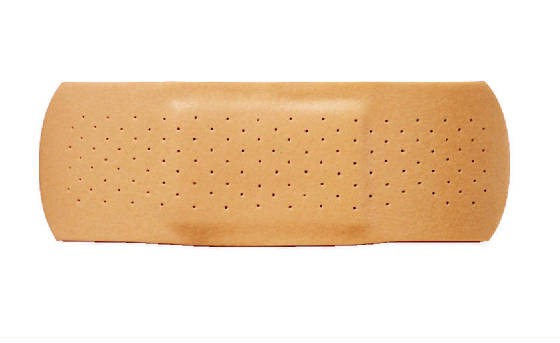 posted by Tally Wilgis @ Thursday, May 14, 2009

links to this post


This year for Mother's Day my beautiful bride asked for a few simple but special things.
1. A full night of uninterrupted sleep.
Really since around the second trimester of her pregnancy with Ainsley she hasn't been afforded too many peaceful nights of sleep. Ever the trooper she rarely gives me a hard time about it. For Mother's Day she asked if I'd handle the baby for a full night and allow her to sleep.
This Friday she got her wish... almost.
Unfortunately while I fulfilled my duty as diaper dad... the built-in motherly instinct still woke Kristy from her R.E.M. sleep a few times. Ultimately however it was one of the best nights of sleep she's had in recent memory.
2. Jewelry Box-
Kristy has suffered long enough with a very old and very small jewelery box (I use suffer very loosely). Much of Kristy's jewelry ends up on various tables in our bedroom. After 4 hours of searching and two different malls
Caleb and I secured a pretty sweet wooden jewelry box with about 50 drawers, compartments, hooks and ring holders.
It's a dark wood with silver accents. We scored with that one.
3. A day with the family.
Today Kristy got to pick our afternoon activity. After church we jumped in the car and ended up at a family fun center playing miniature golf. Caleb and I also took some swings in the batting cage and
Cman also got to play about 25 different arcade games and rack up 318 prize tickets.
Twas a good time.
Below is the video of me giving Kristy a lesson on the 17th hole. We're not talking about the score.. it's really not about who won... it's all about this particular hole where I obviously show my dominance.
Toward the end the video gets hilarious as Caleb melts down.
You'll see why in the video. Have fun.
posted by Tally Wilgis @ Sunday, May 10, 2009

links to this post


Had a
great time tonight
with some students from
Towson University
who came over for our 'Cook Out & Dig In' bible study.
We had a downpour
just before we were scheduled to start so we had to bring the food inside but apart from that all else went very well.
I was pumped to interact with these students tonight.
To give you a sense for the environment I'll just say that
we didn't have any 'churchy' kids here
tonight. While some had a church background and a couple attend a church, most are college students either very young in their faith and even one guy who said at the beginning of the night
"I'm not religious."
With this group of students most not being used to a bible study...
we had amazing interaction.
What I observed and was reminded of by
Mikael
(one of our team members) was that the students were able
to gain insight from each other
as much as they were from me. The level of conversation was great and the
honesty and transparency
was flat out inspiring. The students who came tended to be cool in their own skin and interested in developing or growing in their faith.
The guy who started the night by saying he wasn't 'religious' said
he plans to be back
and he publicly thanked his friend who invited him. He said that he's interested in learning more about God. He's a
solid kid
who I look forward to getting to know.
The cool thing was that tonight we covered about half of Acts chapter 1 and we talked about the command to
"be my witness"
. The students - unprompted - started to talk about how
they want their friends at Towson to come to know Christ
as Savior and at the end of the night they asked for more invite fliers and asked for prayer as they invite their friends back next week.
I'm so stoked!
Thanks for your prayers... those of you who are praying for
Captivate Church
and what we're doing in Baltimore. God blessed our efforts tonight!
posted by Tally Wilgis @ Tuesday, May 05, 2009

links to this post


Tonight is a milestone for us as we're opening our home to college students from Towson University for a cookout and bible study. As a bonus we decided to set up one of our inflatables we purchased for block parties so the students can play around if they so choose. It was vital for me to make a safety inspection from the inside... so I took one for the team.
I'm so pumped for tonight and the start of our outreach activities we have planned for the entire summer!
posted by Tally Wilgis @ Tuesday, May 05, 2009

links to this post


It's a great Friday in Baltimore.
God is on the move and I'm pumped to be on His team.
As you know by now I had an
amazing time
in Charlotte with the guys from Elevation Church at their non-conference Conference- THR3E. They did a bang-up job and
I count it an honor to have learned from them.
I have a few pressing prayer requests and I sincerely appreciate your prayers. Please don't simply read the following
but if you could, take a few moments to petition God on our behalf.
- Local Relationships-
We're at a stage where we're starting some weekly meetings with some local folks to build up a core team. Please pray that our efforts are done well and that God would bring people who will become one with us and the vision God has given for this area. I sense a desire in our region for a church like ours and I know those far from God need a church like ours in the area. Pray for God to bring us teammates to serve at our side in this cause.
- Facility-
We're not settled on a facility yet. We've found that our area is very costly even in comparison for this region. The typical facilities plants would use are either in-use or are unavailable to us for a longer term commitment. We're looking at schools and semi-permanent space at this point and are seeking God's wisdom and favor for this move. We found a facility that would be amazing but would need just a little more capital to make it happen. At this stage we're not moving forward unless/until God brought a partner that made it clear we should pursue that facility.
- Staffing-
We're just about staffed out to get started. Please pray for our team as they come together and for God to bring some amazing volunteers to fill in the gaps in leadership as well as take chunks of this vision and run with it.
- Partnership Development-
We've been blessed with some great partners and we have several who are still considering their involvement. It is our prayer that again God would speak to hearts and we'd get the exact partners He's picked out for us. I view the work God will do in Baltimore as an amazing opportunity for folks to invest here. I'm praying we get a few more key partners who see it that same way. Several PDF's of ways you and your church could help are available for download at CaptivateChurch.com and click "media".
Thank you so much for taking time to pray for us. I have heard from many of you who have prayed and continue to pray. Thank You.
posted by Tally Wilgis @ Friday, May 01, 2009

links to this post