Hey there blog world. It's been a while.
I had a few friends write me recently to kick my tail about not blogging and sharing details.... let me assure you... It's not you... its me.
Honestly I wanted to take a few minutes and thank all of you who have written such encouraging words. Your emails and comments which I don't publish have been amazing.
I'm thankful for the week I've had and God is being more than gracious with what He's been cooking up. I'm spending time receiving and making certain to give Him his due.
You know what I've found in the last few weeks? Those who aren't affiliated with church whatsoever have been some of the most amazing people God has used to speak to me and assist me in this journey.
I may get into the details a little later but please accept my sincere "Thank You" if you've been praying for me along the way. I feel the affects and I'm fired up right now. I trust you will grant me some freedom in not doing details right now. There are several steps ahead but I can assure you that I'm in the front seat of the coaster and it's pretty stinkin' cool from where I sit.
Have a great Thursday night. Thanks for your encouragement and I look forward to giving you more insight as time goes on. God is amazing and those of you who felt called to speak into my life I thank you for being obedient. Have a great Friday!
I will share with you that I'm pumped about two meetings I have tomorrow. One is with an old friend from college and another is with a guy in our small group whom I'll meet for some bible study and stuff. My day will be grand. I wish the same for you!
posted by Tally Wilgis @ Thursday, February 28, 2008

links to this post


Tony has a great post
about the top 10 mistakes he's made. In the final mistake he references a passage from
Genesis 10:31-32
which says that although Terah was headed to Canaan he stopped at a place called Haran. He lived there. He died there.
That verse is another example of why we took the steps necessary to flip this church upside down. If God gave us a preferred future for our city, it's our job to follow Him in every aspect of that vision. If we're not following Him and we stop short to find comfort in our present circumstance we are sure to die having not come close to what God called us. For us to make excuses or explain away failure I believe we'd simply be adding our names to the stories of men and women who fell short of God's preferred future for their lives.
Speaking with another Pastor yesterday I shared with him that one of the most heart-wrenching things I've seen in ministry are Pastors who change what a "win" looks like in order to feel like they've done well.
Most Evangelical Pastors start out believing that their task is to teach others to reach others. Their "win" in the early stages is seeing people come to Christ. I can't tell you though just how many Pastors I've noticed over the years who change their vocabulary to match their record. They move from talking about converts to talking about codifying Christians. They move from talking about seeing their city changed to seeing the pews changed. The goals are adjusted to fit the Pastor's level of success.
To me this is like training for the Boston marathon but calling the press to announce that you've made it around your block. I'm most certainly not saying that we will all see the results of our labor (Hebrews 11 tells us that). What I am saying is that we shouldn't ever allow ourselves to settle.
Can you imagine our boy Terah? For years he tells his family about Canaan. He casts vision for the milk and honey, the gigantic fruit and the majestic views. He finally builds up enough support among everyone to start on the long journey. Somewhere along the way (and for whatever reason) he stops the family in Haran. Maybe the journey was tough, maybe it was hot or maybe the family argued so much that they stopped in Haran to rest. Regardless of why, they stopped short. I just imagine what Terah talked about the rest of his life. I see him sitting in on the front porch with other old men of Haran as he gives them all of the excuses why he didn't go to Canaan.
With excuse after excuse his life slips away as he talks (in code) about all of the reasons he settled. I wonder how many Pastors are settling. For all of those church leaders who claim that God is "in" what they are presently doing... I wonder if its the same God that called them to reach their city for Christ or if this is the god of comfort and ego that has caused so many Pastors to tell stories about why they aren't where they and their churches need to be.
For us, this is the reason we did what we did. I'd rather go through the process of being humble enough to say "It wasn't working so we're re-training, re-tooling and re-starting." instead of spending my life sitting around figuring out ways to make a loss look like a win. I want to see the Promised Land.
posted by Tally Wilgis @ Wednesday, February 20, 2008

links to this post


Lately I've been intentionally mum on our ministry here in Hampton Roads.
Over the last year I've spent a lot of time taking inventory and seeking God anew. At the end of this time (somewhere in the fall) I decided to act in obedience to what I heard from God. This obedience wasn't easy to say the least and it has lead to some of the toughest challenges I've faced as an adult. Most of these challenges were internal.
What lead me to seek God anew was the fact that our church hadn't been reaching people. Here and there we'd have someone come to Christ but by and large our church had gotten stagnent and routine. We were big enough to 'have church' and it appeared that many of our folks were content with that in spite of every sermon to the contrary.
As I sought God and evaluated the situation I came to the conclusion that my ministry here in Hampton Roads was not over. I wasn't released. There most certainly is a huge need here. What I did conclude (and this is a very strong conviction of mine) is that a misrepresentation of Jesus Christ through the local church was unacceptable. Effectively I believe churches that have become social clubs would do better to fold than to continue ruining the world's perception of Christ's Church. To this day I have no clue how a Pastor can find joy in leading a congregation that is not actively seeing lives transformed in the name of Christ.
In our case as I looked back we stumbled out of the gate and never quite caught our footing. To do what we did with what we had was pretty stinkin' amazing to be honest... but that isn't the standard. The goal isn't to beat out the church planting statistics, the goal is to see people come to know Jesus Christ as their Lord and Savior. So sure we were "healthy" from an outsider's perspective but we weren't healthy on the inside... we weren't growing like healthy things grow.
Coming to grips with the reality of this situation then led to a few questions of what to do. At the end of the day we felt there were basically three options ahead:
1. Continue forward trying to make changes as we go.
2. Fold the place completely and go find new employment. (aka 'God's calling me somewhere else')
3. Refocus and re-start after a period of training and equiping.
Out of our options I felt we had already tried the first one. This evaluation wasn't new. I felt that we had tried to spin the plates over the last year and it was obvious that we didn't have the number or type of people we needed in order to get the church back on track. Incrimental improvements weren't enough at this stage. We had a large amount of people who saw themselves as consumers. This was in spite of all teaching to the contrary. Small changes weren't needed. Something big had to happen.
The second option wasn't appealing to me for one major reason... God had given us some who were growing and eagerly serving... most of them were younger and we were the first church they were attending as a couple. For these families I felt that it was important we gave them the option to continue their growth with us. Additionally as I stated, I didn't feel that our vision or style was a problem for this area. What was a problem was that we only had a few who actually seemed to care about the vision and mission. Apathey had set in and we weren't able to shake it.
So with the first two options out of the way we looked at spending a focused time to retool. While the first option was tweaking the system, this option would be to take everything apart and start over. This was the preferred option.
Toward the end of the year we began preparing our people for some major changes to come in 2008. On January 6 we made the news public. Focal Point Chesapeake was going to re-launch. We warned that this was not for everyone. We spen the next three weeks laying out expectations and each week we saw our attendance drop. While it was sad to see people leave, the message was received better than I thought. People were moving on knowing that we had tried everything we could. I didn't have one person question me about the validity of the decision. It was as if I was saying publically what so many knew in their own hearts.
Many of our folks knew from the time of the announcement that they really shouldn't continue on. Some met with me and we talked about the fact that they'd be better served by moving to another church and growing in Christ. Others met and I shared concerns with their own growth but encouraged them to continue with us. Out of all of those conversations we ended up with a new core team.
I can't tell you how excited I am about the future of ministry here in Hampton Roads. Over the last few weeks our core team has been meeting and I have already seen a revitalized enthusiasm and passion for Christ sweep this gathering of adults.
Over the next few weeks I'll begin to share details of this transition.
I'll share the fear that comes with giving your ministry an autopsy.
I'll discuss the fear of scaling back when you've been in ministry since college and you wonder about finances.
I'll share about the courage it takes to do the right thing in spite of all of the obsticles.
For now I ask you to join me in praying for our city and the ministries here. My prayer is that every church that is focused on transformation in the name of Christ will flourish and those that misrepresent His Name will take inventory and be honest enough to repent, re-launch or retire. Hampton Roads has some great churches but our population base requires many more. I like Nehemiah , love my city and I want the best for her. The path we've chosen is out of that same desire. We want great things for the people of our city because God wants great things for His people in this city.
posted by Tally Wilgis @ Tuesday, February 19, 2008

links to this post


Tonight while I was playing basketball (yes I took care of Kristy for Valentines Day and yes I got her permission to go), I had another moment where I felt like God was reminding me of some basics we all must learn over and over again.
:: Timeout ::
I heard John Maxwell say long ago that we have only learned those things that we actually practice. Under this definition I believe we all can re-learn some things.
:: Time-in ::
So while I'm playing basketball I missed a few shots and got on myself... I started thinking "Just be disciplined. Remain calm and stay disciplined."
In this moment (I'm strange like this) I felt like God was tapping me on the shoulder. "Yeah. Remain disciplined. Don't you know that Discipline and disciple come from the same route word?"
Was it God? I don't know. Was it merely the way I'm wired to think? I don't know. Either way it was that still voice you get both when you think and when you sense God speaking. What I do know is that I've allowed that thought to continue to stir my soul tonight.
Discipline and Disciple. If I'm to be a disciple of Christ I have to remained DISCIPLINED.
There is an extreme to everything of course... Focusing so much on the Discipline would turn you into a legalist who doesn't embrace the love and mystery of grace. But embracing the concept that we're just "Followers of Christ" without building some concrete understanding of what that practically means would basically put you on a boat in the middle of the spiritual ocean. We have to have some guides.
So for this "Follower of Christ" I will be focused on asking myself about my life of discipline. I will not only challenge myself to be involved in more spiritual disciplines but also daily disciplines. Being a disciple shouldn't lead me to getting out of shape and unhealthy. Being a follower of Christ should lead to an enjoyment of a disciplined life where the Holy Spirit has free reign to do only what the Holy Spirit can do.
Discipline.... my word of the week.
Just in case anyone doubted. This is what my wife came home to today. We unpacked our picnic and brought the little guy along for the ride. We enjoyed a great 'picnic' in our living room. Now I'm going to enjoy... g'nite!
posted by Tally Wilgis @ Thursday, February 14, 2008

links to this post


An overflow crowd formed well before the 12 noon event in Norfolk and with spontanious cheers and rally cries this group showed their enthusiasm for the candidate that best supports conservative values.
Mike Huckabee gave another flawless presentation of why anyone who considers themselves a conservative on foriegn policy, economic policy or social policies should vote for the Governor. The only man with executive experience left in the race and who happens to not have a second home in Washington D.C. at the moment.
There have been two areas where conservatives have had questions about Governor Huckabee, immigration and taxes. With immigration he has the support of Duncan Hunter (who was present today) and the founder of the Minute Man project. Regarding the questions of taxes his record has been grosely misrepresented but additionally it seems rather sobering to think that this candidate is running with a platform of putting the IRS out of business. How much more fiscally conservative can we get?
I'm so excited to go out tomorrow and vote for Governor Mike Huckabee. I look for all of my mid-atlantic friends to do the same!
So this week it's Huckabee for me! [He's for you too, you just don't know it yet.]
posted by Tally Wilgis @ Monday, February 11, 2008

links to this post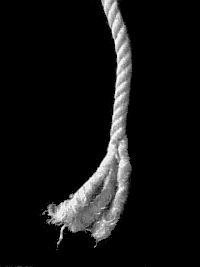 Do you ever feel like you're at the end of your rope?
When you've done all you can... taken all of the punishment... you feel misunderstood, abused, hurt? Have you invested all you can invest in people and they seem to not even notice? Have you been to the place where you've prayed all you can pray, confessed every sin, remained as humble as you can.... and just feel that you can't do another thing?

We all get to that place from time to time.
I don't care if you're a mega church rock-star Pastor or a retired rural layman. We all feel spent from time to time. We all experience those times when we come to the end of ourselves.

In today's American wealthy version of Christianity we try to emulate this by attempting grand dreams that will only work if "God is in it". We call that faith. We call that being at the end of ourselves. While I do not disagree that coming to the end of ourselves in the greatness of our dreams is God-honoring, the end I speak of cannot be emulated by trying to start new projects.

Most of humanity comes to the end of their rope trying to keep things alive.
Trying to keep that son or daughter alive and away from promiscuity or drugs. The wife trying to keep the marriage alive when it seems the husband has quit. The father trying to keep the family alive by providing food on the plate in spite of a recent job loss. The Pastors trying to keep the church alive by warning people not to make poor decisions made in emotion which lead to the same devastation that has haunted those who wandered from Jesus in the midst of their hardship. Keeping things alive in our own power provides an incredible sense of being at the end of one's rope.


Coming to the end of our rope is often seen as failure. We often view hardship in terms of the Olympics or an athletic contest. This language has so plagued our collective spiritual minds that we call difficulty a "closed door" and ease an "open door". I often wonder if Paul thought his knowledge of impending torture and persecution in each city was considered an "open door". I recently heard of some missionary friends who are now (as I write this) sitting on a military base awaiting transport out of Africa to France... I wonder if they consider this a "closed door". Somehow I doubt it.

We are quick to place a pejorative label on adversity. We're quick to throw in the towel if the odds seem stacked against us. When we do so we are such weak people unworthy of the label "Christian". We avoid hardship like the plague. We run and hide. We fear instead of fight. We see ourselves as grasshoppers in the face of adversity.

This cancer of distortion does not only affect how we view ourselves, this plague has affected our view of those who need hope most.

Much like the religious leaders in the story of the Samaritan we come up with reasons not to involve ourselves in the troubles of others. Whether we admit it or not we believe suffering is an abstract concept that should be reserved for the 'Feed the Children' commercials at . Suffering has no honorable place among those of us 'advanced' in Christ in the West.

In a recent conversation I had at a coffee shop with a local Pastor my heart broke when he spoke of poverty in terms that nearly broke my soul in two. He asked if I heard that gangs were moving into the suburbs of cities and now terrorizing more affluent communities. What he said next hurt. He said "I wish they would stay in their own neighborhoods and leave the rest of us alone."

Most of us won't be transparent enough to say these things but most of us are guilty of avoiding suffering like the plague.
Suffering is Spiritual. Suffering is Sacred.

There is a place for you at the table when you are broken or when you're trying to keep something alive in spite of all adversity.

I want to offer up another view of the end of your rope. There is actually a theologically sound understanding of that rope which says that at the end of the rope is not failure or doom... but God.

It's at the end of your rope where God waits with his hands palm-up ready to catch you.
Paul didn't say that he only wanted to share in the "Victory in Jesus" (remember that tune?)... he wanted to also share in the "Sufferings in Jesus". That is spiritual maturity. Find the Savior in the suffering.

Based on what I've heard from the Christian music industry over the last year I'd say it's time for some new "Christian Music" to come out.... how about a song centered around Philippians 3:10. "I want to know Christ and the power of his resurrection and the fellowship of sharing in his sufferings, becoming like him in his death,"
We often avoid the sufferings. Remember the religious leaders in the Samaritan story? Remember my bible toting Pastor friend at the coffee shop? Remember the idea of a "closed door"? We often cannot see a window of opportunity at the end of our rope...only doom. Hope is not often found at the end of our rope... yet there... in the distance... at the end of our rope... is Jesus.

The leper was at the end of his rope right before he received healing from Jesus. (Mk 1:40-42)

The friends of the sick man were at the end of their rope when they used that rope to lower him through the roof to reach Jesus. (Mk 2:1-5,11)

A man named Jairus was at the end of his rope when he came to Jesus asking for his daughter's healing and upon hearing about the death of his daughter still trusted Jesus and had faith. His daughter was said to be dead... he was at the end of his rope. (Mk 5: 22-24,35-43)

The woman who had the issue of blood was at the end of her rope when she reached out in a crowd to simply touch the garments of Jesus believing that he was her answer. (Mk 5:25-34)

The blind beggar named Bartmaeus was at the end of his rope when in desperation he cried out to Jesus to have mercy on him and give him sight. (Mk 10:46-52)

So if you're at the end of your rope you can trust that you are in good company. It takes you to end so that Jesus can begin. John even proclaims that He must become greater and we must become less. While John was talking about his particular ministry I believe it's safe to take that as a personal challenge in Spiritual Maturity.

As you find yourself at the end of the rope and it seems that suffering is your only companion, look over your shoulder because there you will find your Savior... you will find Jesus.
posted by Tally Wilgis @ Wednesday, February 06, 2008

links to this post


Over the years in ministry I have personally counselled hundreds of people in various situations.
I've dealt with everything from teens out of control to family finances, divorce, death and everything in between.
I've experienced time after time giving a person or family advice only to have them turn their back and walk away having to deal with the consequences of their actions alone.
One of the saddest things I've seen is when people allow the stress of their present circumstance to cloud their judgement.
They stop seeking Jesus and find comfort in seeking self.
"Fight or Flight" impares biblical precepts in handling the every day problems of life.
None of us are immune. The problems of life WILL hit each of us. The tides will crash on the shore and we will feel pain. Dr. Falwell used to always say
"You are either in a storm, just coming out of a storm or you're headed for a storm."
I've found that to be absolutely true. The question in the Christian life is never about whether or not you will face storms. The question rests around how you will handle them.
Do you cling to the Kingdom of God or do you panic and make irrational decisions.
Sadly I've found many making irrational and often life-altering decisions.
There are striking similarities to those who do not follow through with wise counsel in the midst of their storms.
They tend to find it easier to blame the very people who can best offer support in the toughest times of life.
I can't tell you how many people felt that it was better to be bitter.
I'm going to let you in on a (not-so-secret) secret.
No matter the problem in front of a person the answer is always the same:
"But seek first his kingdom and his righteousness, and all these things will be given to you as well." Matthew 6:33
Problems are nearly NEVER as simple as what people tell you and honestly they are never as complicated either.
Eliminating medical issues, most of the problems we deal with in ministries are the problems of the heart. For the Christian the problems come when minds aren't transformed to the thought-pattern of putting Christ first.
It's rare that I've dealt with people in the church to whom I would get a positive answer when I asked about their current relationship with Christ. If we want the best for people we must challenge them to seek first the Kingdom of God.


Some Examples:


A church member says that they aren't growing in their walk and therefore need to find a new church.
My 'Seek First' questions:
"What are you reading in the bible right now?"
"How is your current prayer life?"
"Do you serve Jesus through serving others?"
"Which spiritual disciplines are you currently involved in?"
A church member complains about their spouse or wants to complain about their spouse not getting to do what they want to do in the church.
The 'Seek First' questions:
"How often do you and your husband/wife pray together?"
"When was the last time you heard your mate lift you up to the King of Kings?"
"What chapter are you and your mate currently reading together?"
"Does your family get self-esteem from what you do publically or from who you are in Jesus Christ?" "Do you as a family care about what Jesus cares about?"
"Is this a biblical problem or a personal problem?"
"Are you blaming others for the consequences of your own behavior?"
"In light of all of eternity does this problem matter?"
A church member is having problems with their teen (rebellion, sleeping around, defiance, talking back, etc.).
The 'Seek First' questions:
"Does your teen see Jesus in you?"
"Are you trying to point your teen to Jesus or control your teen?"
"Have you set the bar high enough so that your daugther knows what a real man looks like?" "Are you praying for your teen or against your teen?"
"Do you demonstrate love the way our heavenly father demonstrates His love toward us?"
A church member complains about their finances (usually relating to why they are being disobedient with tithing).
The 'Seek First' questions:
"Do you start out giving to God or do you 'tip' him at the end?"
"Do you treat finances as if you are spending God's money?"
"Do you pray about large financial purchases?"
"Do you look for scriptural principles of spending and saving?"
"Do you put as much time in learning biblical financial princples as you do with online shopping or knowing the latest Fantasy Football stats?"
"Do you believe that where your treasure is there your heart will be also?"
"If you do, where is your heart?" "Where do you want your heart to be?"
"Why should God bless you with more finances?"
posted by Tally Wilgis @ Wednesday, February 06, 2008

links to this post


I spoke at the Campus Church tonight... and hopefully made much of God's mission, reconciliation, and the cross. It's late and I am tired, but Liberty is not what I remembered.
Tonight was 5000 students in God centered worship, some dancing, many on their faces, and all there voluntarily. All good-- just not what I expected. More soon, including updates on my meetings tomorrow to help Liberty plant 500 new churches in the next 5 years.
more here
posted by Tally Wilgis @ Friday, February 01, 2008

links to this post


This is one of the funniest things I've ever seen on the web. If you don't follow Los through his blog you are missing out. I've pimped his blog once before but I'm tellin' ya you have got to
add him to your feed reader.
If you don't know what pimped or feed reader mean... you may not want to read his blog.
(too my RSS friends, there is a video posted here).
Check out Los' blog now
posted by Tally Wilgis @ Friday, February 01, 2008

links to this post