As we look at the images of the horrible tragedy that is left in the wake of "Katrina", I cannot stop thinking "How can we help?"
Many who read this blog are Pastors of local churches (some larger, some smaller). I wonder if we cannot begin to coordinate efforts for 'After the Storm'. Through the power of our blogs we can begin networking with the intention being to meet in a month or two in LA or Mississippi to begin helping in the rebuilding process.
Immediately we can give to our various
denominational relief efforts
and to the
American Red Cross
but I'd imagine that the rebuilding process (for many families) is going to be the worst aspect of this. As we enter September, we can assume that power is unlikely to be restored before the beginning of October. For many families a home will still be a dream.
The Plan:
I have been in contact with the Habitat for Humanity's Disaster Relief coordinator. They are preparing for what will be a massive relief effort in October/November time-frame as residents will likely not return for nearly 3-4 weeks. What we're asking you to do is the following:
1. Pray for the families and situations.
2. Make your churches aware of the need.
3. Consider joining in this blogosphere effort to unite our churches together and present ourselves available to Habitat for Humanity as they use us to meet needs.
4. Blog about this effort and consider it a grass-routes shareware relief effort.
What I hope can come from this is a list of churches who unite to provide Habitat with an army of volunteers to go in and rebuild homes. We all know the power of blogs. You can leverage your church influence as well as your blog's influence to make a practical difference in the lives of those devastated by this hurricane. What a testimony it will be when churches across this country unite under the banner of love and mercy to reach out to these victims.
If you are interested in partnering with me in this effort, please email me or leave a comment with your contact information. In addition, please blog about this effort. I'm looking forward to partnering with you.
posted by Tally Wilgis @ Wednesday, August 31, 2005

links to this post


Via
Gary's blog
,
"One of the churches that have been so good to us is Mountain Lake Church in Cumming, Ga. MLC is led by Shawn Lovejoy and is a GREAT church. I found out this week that their worship pastor, Rick Pearson found out he has Leukemia. Rick is probably about 23 years old and might be one of the best Worship Pastors I have ever seen in my life. If you have ever been to Catalyst, then you have heard Rick sing. He also leads worship at BigStuf Camp."
Please pray for
Rick Pearson.
I've seen him at Big Stuf Camps and he's great! Keep him in your prayers.
posted by Tally Wilgis @ Tuesday, August 30, 2005

links to this post


I'm honored to have made it to the big time.
Terry Storch
and
Brian Bailey
at
Fellowship Church
have made an announcement. With that new announcement
came a new blog
.
The "made it to the Big Time" is a little over-hyped on my part (I've done nothing) but I am honored that they've linked to this site as well as our
Focal Point Church blog
on their new site.
I'm very excited to see where they go with their efforts and I'll be sure to be a supporter of this project. I look forward to what they will bring to the table for the rest of us.
I have yet to give away their secret so go ahead and
click here for their announcement.
posted by Tally Wilgis @ Tuesday, August 30, 2005

links to this post


Unfortunately in ministry I've seen up close what happens to a man who puts himself in the path of moral failure. I've seen a ministry cave-in on itself nearly parallel to the moral decline of the Pastor. I observed how everything crashed and burned only to later find out the loss of moral authority on the part of the Pastor.
You hear about it nearly each month. It starts innocently enough and escalates into something no one would have predicted.
During my college years at
Liberty
we were blessed to have top notched speakers come in and share messages with us. In addition we had some top notched faculty who taught us so many life lessons. Many of these lessons were repeated over and over throughout the 4 years. One of them I remember was taught by
Dr. Danny Lovett (now President of TTU).
He was my Evangelism professor and President of the seminary. He often reminded us "Sin will always take you further than you want to go, keep you longer than you want to stay, and cost more than you're willing to pay."
Even when you feel that you're alone and no one knows what you're doing, rest assured that God will not continue to bless you un-checked and he will not be mocked. Please be aware that if you are serving in the Kingdom, you are a part of something amazing. God has called you out of the crowd to lead people to Him. If you find yourself flirting (or swimming) with moral failure, reach out. Contact someone you trust to help keep you accountable. Moral failure will sink your ministry ship and hurt many people in the process.
posted by Tally Wilgis @ Tuesday, August 30, 2005

links to this post


I spent part of my morning with a family from our church. This family has a relative in town (grandma) from Mississippi. Her town was hit with the hurricane today for most of the morning. I went over to assist them in communicating to the family back home. I helped them gather information online about the current conditions. The grandfather (her husband) is a retired naval meteorologist and was locked and boarded up inside of their home. We relayed information all morning so he could get information to the family and neighbors.
At around 1pm the news crew came (the family knows a former reporter). They wrote a short story and interviewed the out of town guest.
Here is the story.
posted by Tally Wilgis @ Monday, August 29, 2005

links to this post


Recently I've discovered that our church has a small infection of gossip. The gossip bug bites and spreads like a bad disease. Upon learning about these things I've started to address the issues at hand. What I'm finding quickly is how many lies are mixed in with how little truth.
I've always known that gossip is just wrong and is looked on poorly by God but these last few days I've seen first hand the confusion and damage it brings.
Do you realize that not one person I've talked to thus far has had the facts straight? Gossip wouldn't be fun if you were talking about truth and integrity. You have to sprinkle in lies and personal bias. Otherwise it's useless.
Do you realize that gossipers need a willing ear? An easy way to shut gossip down is to prevent an audience. If people (in our church for instance) simply decide never to talk about people outside of their presence, we'd shut down the gossip train.
Do you realize how many people don't understand when they are gossiping? In our culture (transient for the most part) people want what we've pushed in our church: relationships. It's been interesting to see what some people believe comes with relationships... a listening ear.
Anyway... Pastors please confront the gossip now. Address it publically for what it is... sin. Address it privately as such and give people an opportunity to come clean. If your house is in order the likelyhood is that none of it is true. As long as it is allowed to float you will be in trouble. Get rid of it.
posted by Tally Wilgis @ Monday, August 29, 2005

links to this post


Hello blogging world. I've missed you.
A lot has been going on here over the last week. Much of which I can't discuss just yet. When I'm able, I'll be glad to share.
Blogging to some extent is like working out. If you miss a few days it takes a little motivation to get back in and start again (at least for me).
I've missed you but I'm back. I look forward to sharing more thoughts from our church planting experience and lessons on leadership.
posted by Tally Wilgis @ Monday, August 29, 2005

links to this post


I've been traveling a bit this past week as well as visiting with my friend John. He's up from Texas and I've kept him in a 'working vacation' mode all week.
I'm going to be traveling today and tomorrow as well.
This past week at Focal Point we had our first ever membership Sunday. We've moved our "membership" to "Partnership". I heard many comments Sunday such as "Wow, I never thought of it that way." One guy said "I've heard a few speals about membership but that makes a lot of sense.
I wonder how often we forget that people in our churches don't know what we know and many times will not think the way we think.
Communication is underrated.
posted by Tally Wilgis @ Wednesday, August 24, 2005

links to this post


Here is an idea that will help you grow your church.
Check out this
article from the Leadership Blog.
posted by Tally Wilgis @ Thursday, August 18, 2005

links to this post


My undergrad Alma Matre recently relaxed its dress code. Check out the
LU Story Here
.
I remember my first day on campus. I had never seen the campus and I didn't have a clue who Jerry Falwell was. I even asked the registrar's office for a copy of "The Liberty Way" to read. The lady at the counter laughed at me and said "you WANT a copy of the rules?" I didn't know that the required reading I was supposed to know was the rule book. Well, upon reading "The Liberty Way" I discovered so many things about the school that I wasn't familiar with. I learned that I could not have a T.V. until I was 21 yrs old. I learned I couldn't have facial hair unless I had a doctor's notice saying my acne was so bad that I couldn't shave. Most importantly I quickly found out that we had a dress code. I had to wear a tie every day!
After I got rid of my TV, shaved and went to goodwill for some dress clothes, I was fine.
I must tell you though, I fell in love with Liberty by the 2nd month. I arrived in January and my grandfather passed away in February. At around 3a.m. when I got the news my Spiritual Life Director came into my room (two students on every hall were there as sorta hall-Pastors). After he talked with me and prayed with me I looked back down at my feet and thought about my grandpa. I heard some noise at the door and sure enough another guy was at the door. Within minutes there was a line halfway up the hall of guys waiting to come into my room to love on me and pray for me. I felt incredible love that night. I felt the love of Christ.
Because of those guys I determined in my heart that no matter how much I didn't like some things I was committed to that school and to being a positive part of the campus. God worked in my life in amazing ways at Liberty. Dr. Falwell is an inspiration and his vision puts every other Pastor I know to shame for lack of size. He has made a large impact on my life and the people of LU have done the same.
Anyway about the dress code: Yippie for the current students. It's a wise move for the university's enrollment (they're trying to have 15,000 on campus in the next 5 years. They need to grow and the dress code will help.)
BTW: I know the girl quoted in the article and she was less than honest with the reporter.
She hated the dress code.
posted by Tally Wilgis @ Thursday, August 18, 2005

links to this post


Computers are cool but this is crazy. Check out what happened when a local school district sold about 1000 computers for $50 each.

Story Link
posted by Tally Wilgis @ Tuesday, August 16, 2005

links to this post


If you're not into politics or sports you may want to skip this post. I admit it, I'm venting. You don't have to agree or disagree. Maybe I'm having therapy.
Tally's honest take on T.O.: Grow Up
As a matter of disclosure I should tell you that the 49'rs were my favorite football team until the Ravens were brought to Baltimore (my home town) so now I have one team in each conference. Both teams had to put up with Terrel Owens' antics so I'm now tripply over him.
History:
(details here)
Last year Terrel wanted out of San Francisco and he neglected to inform the NFL of his declaration to be a free-agent in time so San Francisco sent him packing to Baltimore. Owens, in a cry-baby move said he won't play in Baltimore and he ended up getting a quicky contract from his (then) friends, the Eagles. The contract was a $49 million contract.
This year Terrell began to complain that he can't feed his family on $49 million. He wants a new contract. This is why I want to tell Terrell to grow up.
He wears army fatigues to practice as a way to show that he's at war with management while we have real men and women dying for the freedoms that he uses to look like a selfish baby. That's another reason he needs to grow up.
Terrell has a problem with authority. He's never gotten along with his coaches and he seems to find a way to have problems with his quarterbacks (part of the reason he didn't want to come to Baltimore). He should grow up.
Done with T.O. Thanks for reading.
Tally's honest take on Cindy Sheehan: Please go home
History: Cindy Sheehan is the mother of a fallen soldier Casey Sheehan who was killed in April of 2004. She has been protesting outside of President Bush's Crawford, TX ranch. She's demanding a meeting with the President. Some media are not reporting that she's already met with the President in June of 2004.
To start let me say that she has every right to do what she's doing. She's got every right to be upset and I'm sure the loss of her son is extremely painful.
The reasons I'd prefer to see Mrs. Sheehan go home are the following:
- Her own family is falling apart from this. She's hurting herself. Reports today indicate that her husband has now filled for divorce. They were High School sweethearts but apparently this is breaking their family apart. Go home for your family.
- President Bush is not who to blame. The Congress of the United States voted to go to war. She should be in D.C. visiting every member of Congress. She's calling President Bush a murderer. Her misguided anger is hurting her cause. She'd be more productive working on Capitol hill.
- Her son was not murdered by any American. Mrs. Sheehan is mad at the President but to a person, all reports indicate that her son was proud of his mission of freeing people around the world. She should go home and honor her son's memory. Remember, we have a volunteer military.
Tally's honest take on Iraq: Let's remember our history.
History: This post is not about for/against the war. Today the Iraqi lawmakers were given 7 more days to come up with a draft constitution. I've heard some people whining and saying that this is a failure for the process. I say to them... Remember our history.
This great country (all-be-it not perfect) has always been growing. Does anyone realize that it took 8 years for our country to have a fully ratified constitution? Does anyone remember slavery? Civil war? Women's suffrage? Martin Luther King and the civil rights movement?
To think that we're going to set
22 million people
free and expect them to have a photo copy of our governmental structure within 24 months is absolutely ludicrous. Let's give them time and pray for our troops and their freedom. Let's remember our own history and allow the Iraqi people to stand up for themselves.
posted by Tally Wilgis @ Monday, August 15, 2005

links to this post


The
WilgisFamily.com
site is developing nicely. I'm glad for what we've been able to put up thus far. I've added a photo album and updated other information. As I continue to learn more, I'll improve it.
In addition to the photos, I've added a bunch of links and a section for News and Sports. I'm working on weather but haven't gotten that one figured out just yet.
For now it works pretty well and does much more than I could have asked for even a month ago.
posted by Tally Wilgis @ Monday, August 15, 2005

links to this post


For many of us a huge struggle is the battle between inside and outside perspective with regard to our ministries. We want our churches to be outward thinking. We want them to be full of people who take the Great Commission seriously. We want our churches to grow.
So often however, we end up allowing ourselves to focus on the inside or as my friend John calls it "Defense" ministry. We toss our playbook in favor of reacting to the current item.
We have to learn to play "Offensive" ministry.
Now to the casino Analogy.
I came across the Travel Channel the other day and noticed they were interviewing the CEO of
Wynn Resort and Casino
in Las Vegas. He said something that grabbed my attention.
He basically said "What I know is that we'll make 20 cents on every dollar that is bet in our Casino. Because of that, I do everything I can to get someone to bet. I want more players and I want players to love the environment because every dollar bet generates 20 cents for our business."
That is an outward vision. He knows the bottom line and that bottom line statistic is what drives everything from the golf course and saunas to the quality of food and comps they give to gamers. They don't even mind if guests win because the law of averages is in their favor and they will get 20 cents on the dollar when it's all said and done.
Other casinos or businesses could fall into the trap of not wanting customers to win or cutting back on rooms or lowering the quality food to save money. This is the model so often the church uses. This model will fail. The churches that will succeed are the ones that look for an overarching principle that drives every single decision. In addition, it will be the leaders who can see the connectivity between decisions that will maximize potential for growth.
Christ gave us that principle.
Disciple more people
. Tell people about Christ and teach them everything he's commanded... then the rest will take care of itself. But we so often times cut short the entire gospel (by our focus) and spend time trying to please the handful we have instead of doing whatever it takes to reach the rest of the lost world.
Certainly the profit for eternity is more than 20 cents on every dollar.
posted by Tally Wilgis @ Friday, August 12, 2005

links to this post


I'm certain that this post will only add to the misnomer about Pastors but who cares... I played golf today.
This was the first time in probably 2 years (basically since we decided to plant the church) that I've played a round of golf. There was much rejoicing. I went with a guy named Lyle from the church and we ended up getting paired with two older gentleman. They were each playing alone so the course tossed us into a four-some. We had a good time. For myself I didn't play too badly (98 on par 72)... I said FOR MYSELF. :) I remember one of the last times I played I shot a 75 on the front 9. So today was nice. Me and my
Vagger Bance
clubs had fun.
My mind constantly spits out metaphors and similes to no end.
Around the 12th hole I thought... Leadership IS like being a golfer.
Our task as leaders is to use the clubs in our bag to move the ball. The key is utilizing each club the way it was designed. If you don't understand the club, it doesn't matter how hard you swing, you will not get the best performance. In that case, the blame is not the club but rather yourself. Is there someone on your team being utilized poorly? What will you do to make the adjustment?
Not only must we understand the club in order to achieve top performance, but we also must use our full bag. No matter how much we'd like it, we can't always use our driver... you can do that but just like the golf course, you will not be most effective. I thought today how we all have 'star players' that we use for everything but it's vital to the growth of the organization that we are sure to know what's in our bag so well that we can best utilize everything to the betterment of the organization.
So today's take aways: 1. Know your people (clubs) and 2. Utilize more clubs (people) in their sweet spots.
posted by Tally Wilgis @ Thursday, August 11, 2005

links to this post


If you do not have a feed reader you may have noticed that I've slimmed down the site. It is "Simplistic" now. I'm doing this because I am currently devleoping "WilgisFamily.com" for our family and I want my site to be able to fit within a window over at that site. To do this I had to trim mine down and clean it up a little. I enjoy change anyway so this will give me my fix for the blog for a while. I'll likely change it again later. So, there you have it... that's why the site looks different.
posted by Tally Wilgis @ Thursday, August 11, 2005

links to this post


Last night our church held a pure-worship night. We thinned out the band, no teaching time, no lights or video. What we did have were chairs, two speakers on the floor and a table where we put communion supplies.
It was awesome!
Effectively what we did was sing some worship songs, read scripture, share testimonies, pray, and take communion. We had a general outline of a schedule (but it was scrapped about halfway through) and that was it.
One woman stood up and shared how she was visiting with a friend a few months ago when I was doing a 'Desperate Household' series. She said "When you got up and started talking about divorce I thought "thank you Lord... you'll tell me how to get out of my marriage" but then you talked for about 25 minutes on commitment and the covenant we make before God and at the end you only gave about 5 minutes to biblical grounds for divorce." She continued "I knew in my heart before that service that I was done... I was planning to leave my husband." She said "But the Lord spoke through that message, I still remember it, and he told me that I made a vow before Him and I have no right to break it. It's hard but my husband and I are now working things out. He's been very ill lately but God has restored our relationship."
Wow!
People talked about all sorts of testimonies. Some shared struggles and asked for prayer, others shared victories in their life and others simply read favorite scripture. I loved it! I told everyone last night before we took communion (after the testimonies) that often as Pastors we walk into a room figuring we'll help people but when we walk out we realize just how much God used other people to help us. Last night was a night when I was caught up in God's grace and love because of hearing what he's doing among his people.
My encouragement:
Stop and think through your God-story. Not just your testimony from 5 years ago that you keep telling people about... I'm talking about your testimony from today, yesterday, this week, right now. God is there... just focus on Him and give him credit.
Pastors:
Please do this with your people. You WILL have a lower turnout when you explain what you're doing. That's okay. This exercize is not a huge draw for those who are "busy" but it is a powerful experience for anyone willing to come. You will solidify your core (no matter how big your church is) and you will help your people to see God's hand in your church.
posted by Tally Wilgis @ Wednesday, August 10, 2005

links to this post


Sunday morning I went to set up (we're a portable church) at 8:30 a.m.
I helped unload the trailer into the building and once I did that I heard a voice say "Tally, can you go somewhere until we're about to get started?" I was shocked. What? Go somewhere? Doesn't everyone know that I'm the founding Pastor? If I go somewhere that would mean I can't fix all of the little problems that are sure to come up. I mean, I've been here from the beginning, I'm sure to know every little quirk and detail that could go wrong.
I said "Sure, I guess I could go home, it's just a few blocks away." The voice said "Okay, we have it covered. Go home and be fresh." I said "Calvin, I appreciate the gesture but I don't want a few people doing all the work... the same few people who do it each week." He replied "It's okay, it will make a point for everyone. I'd like you to go home and rest up."
So, I did. It felt... dirty. (for about a minute, then I loved it)
So, I came home, grabbed a bowl of cereal, changed my baby's diaper and read my bible while my wife got ready. I was refreshed by the time I got back to the building for worship.
And you know what else? I noticed things. I was able to see how our we put up the outdoor signage (which I never usually see). I was able to see where we desperately need greeters. I was able to see that some of our regulars park too close to the building and don't leave as much room for our guests.
I would not have been able to see these things or be that relaxed if it weren't for someone saying "Go home."
Pastors: Go home. Do what it takes to teach your people about 'picking up the needle'.
Church Members: Be the one that tells the Pastor to take a break. You may not realize it but he's going to be 50 times better if he does what he's called to do and is not distracted by what everyone else can do.
I'm not advocating a Pastor that's ignorant and never seems to pitch in. I'm advocating a church body being built where everyone does a little that comes together to be a lot.
posted by Tally Wilgis @ Monday, August 08, 2005

links to this post


- This weekend went well at
Focal Point
. We had a great time of worship with
Steven J. Wales
. Steven did a good job leading worship and teaching in order to give our band and myself a break. Our people seemed to enjoy him and the message was very relevant.
- A young woman attended our church after seeing my wife's jeep parked in the parking garage at their office building. Apparently she saw our focalpointchurch.com licence plate and decided "I'll check them out." She came and told my wife that she liked what she saw. That's a positive little thing.
- While at Starbucks the other day the girl behind the counter saw my ONE bracelet and said "I'm jealous, I've wanted one of those." I said "I have a few at the house, would you like me to get you one?" She said "That would be great." Upon returning to the store (just a few blocks from my house) I gave her two bracelets. We talked about the church (I have a history at Starbucks) and she offered to attend. I gave her a card and we left it at that. The little thing here is that she saw the bracelet as a point of connection. Although she knows I'm a Pastor and she doesn't attend church, she saw me caring about and organization that she cares about. It's so important that Christians support positive causes in the world regardless of their founder's beliefs. There are wonderful organizations out there that we dont' associate with because they aren't exclusive to Christianity. Think of how much opportunity there is in sharing the hope that you have (I Peter 3:15) with those who don't share the same faith.
posted by Tally Wilgis @ Monday, August 08, 2005

links to this post


Peter Jennings passed away today.
People die daily but this felt a little closer because of growing up with him coming on the evening news... I imagine as I get older I'll have this feeling more often. It just reinforces our responsibility to share the gospel with every person on the planet.
posted by Tally Wilgis @ Monday, August 08, 2005

links to this post


Last night was a rough night for little Caleb. He was up quite a bit. His mommy only got about 1.5 hours of sleep. This morning I tried to help mommy out by taking care of Caleb and letting mommy rest.
I discovered something this morning. When Caleb was laying down in his bed or on our bed he would wake himself up with what seems to be a bad dream... he'd make some noises like he wasn't pleased and then begin crying. I remember hearing somewhere a while back that newborns enjoy laying on your chest so I picked Caleb up and laid his ear on my chest and his body out on my belly. What an amazing difference!
When I read about this the doctors were saying that the baby was so used to the movements and sounds of mother so they feel a sense of security when they can lay on your chest. I've also read that it helps the baby to stabalize their heartbeat as they sync up with their parents when they hear it.
An obvious parallel hit me. My 'daddy' is the same way with me. When I am away from him I can get restless and a little uncomfortable. I get uneasy. When I'm with him however, I can lay on his chest and feel his heartbeat. That makes me feel so secure. Is there any secret as to why God describes himself as our strong tower?
I encourage you today, no matter where you are or what is going on... lay on the chest of your father. Hear his heartbeat. Beyond hearing it... sync yourself with it. Make your days on this earth days filled with the passionate pursuit of the heart of God. (
John 17:3
)
posted by Tally Wilgis @ Saturday, August 06, 2005

links to this post


Channel surfing this evening brought me to a religious station which was showing a denomination's national convention. This convention was not my own but if I pressed mute it would look identical. Even while listening to the message (which overall was a good one challenging a stop to the generational divide in the church) I was reminded of a concern I have had for a number of years. At hand is the denominational propaganda being tossed around.
One day a member of our denomination asked me how we could keep young Pastors involved with the denomination and I said what I'll say here: Don't promote the denomination over Christ. Make the denomination what it is... a secondary (or thriddary) issue to the only label that matters.. the name of Christ. My generation cares about glorifying the name of Jesus Christ above all things and holding every other thought captive to that end. Promoting differences between Christians wastes our time and energy that we could spend telling others about Christ.
So, Can we simply be called Christian?
Can we hold off on the call for young people to keep up the name of the XYZ denomination? Can we just challenge every human being we encounter to encounter the living God? People don't care what we talk about at our annual meetings (or weekly for that matter). To a lost and dying world our theological education doesn't mean jack. They want to know who the living God is and if he cares for them. Let's stay focused on telling them.
posted by Tally Wilgis @ Friday, August 05, 2005

links to this post


There is not a better feeling for a church planter than the feeling of people around you 'getting it' and saying so.
This past Tuesday in our Creative Team meeting (creative team/leadership/planning) we had a gentleman sit in who isn't normally able to be with us. He is a doctor going through his residency to become an Emergency room doctor. He and his family are wonderful additions to our church.
During the meeting we were discussing our structure and how we are getting much more organized and structured. It's a period of time for our church where we are starting to get our legs. A baby can't walk and a toddler can. There is an in between time when things are wobbly but the baby is 'getting his legs' under him. The legs that will help him stand strong in the future are strengthened early on.
As we were discussing the importance of some key leaders getting involved as well as some other lay people, the Dr. spoke up. He said something I want to share with you.
He said "I believe it is our job in this room to do whatever we can to take weight off of Tally's shoulders. He's doing far too much on Sundays and I believe we have to get to the place where he can just show up and everything is ready to go. He can come in and be the Pastor." He went on to give a great illustration. He continued "I am a doctor. If I'm with a patient and I reach over to grab the needle, it must be there for me. If I have to take time away from being a doctor to looking for needles, I am taking my attention off of my patient. He said "If Tally is running speaker wire, he's not talking to someone about their life. He needs to be able to freely be the Pastor."
He went on to mention that when he DOES have to look for a needle, he has to toss everything else around so he can find the needle. The Pastor out of his element is the same way. Not only does leaving the Pastor to shepard allow the Pastor to do things better but it also allows everyone else to do their task better.
Lesson to take away:
Eph 4
calls us to prepare God's people for works of service. If you are doing everything and not preparing others to do the work, you're out of line as a Pastor. You and I must (especially if you're a church planter) learn to reproduce yourself in the life of others.
- Start with smaller tasks and build up to larger ones.
- Constantly share your vision
- Share the needs within the body with those who are qualified to meet those needs.
- Create ownership of the ministry among the attendees.
- Know your people. Know their gifts, talents, experiences and strengths.
- Give it away.
- Let people fail (or do it not as well as you would do it-- besides you learned at some point too)
- Encourage people in their failure. As long as they are learning from their mistakes, they are worth keeping.
- If someone needs moved. Say so. Fairness isn't a biblical mandate. God gave us our gifts and talents. He didn't give me the talent of singing. (It's not a gift by the way) I pray someone is honest with me if I ever try to pretend he did. No matter how much I may 'feel' it is my talent... it's not.
Extra credit:
My friend Mitch has a good post
about what the volunteers at Fellowship put together for their Adventure week with their children's ministry. You don't have the scale of talent or even the scope but you do have some... use what you have... that's called good stewardship.
posted by Tally Wilgis @ Thursday, August 04, 2005

links to this post


A while back I discussed
Perry Nobel's
health and need for prayer.
Via
Steve Dillia
at
Fellowship
I'm excited to point you to Perry's site and message from this past week. To hear his story is amazing. As Steve said, the 911 recording is worth the download.
Check out Perry's message.
posted by Tally Wilgis @ Wednesday, August 03, 2005

links to this post


Mac Lake
from
Seacoast
has a great post today called
"Love the One You're With"
. You must check it out and take it to heart.
Don't believe that you're too anything... believe that you must remain aware...
Great job Mac!
posted by Tally Wilgis @ Tuesday, August 02, 2005

links to this post


Allen Iverson, Jason Giambi, Your Team
What do they have in common? They are loved when they win.
Tonight I watched
Allen Iverson
on
Stephen A Smith's
new show "Quite Frankly" on ESPN2.
Iverson said something to the effect of "I'm telling you... people turn on you. You could be doing everything right and the moment you don't produce, you're out. They will turn on you so quickly. I told Lebron (James) that everything is great now and he's a great poster boy but if he screws up his world will change."
Then today on
ESPN
I read that
Jason Giambi
batted .350 in July with 14 home runs. A feat not normally done (
last done by Sammy Sosa
in 2001). If you follow baseball even casually you may recall that earlier this season the Yankees came to Giambi and asked if he'd be willing to go down to the minors to "work on his swing". Giambi refused and the rest is history. In a matter of months he went from the celler to the pent house. Why? His batting average.
Your church operates the same way.
When you are winning things seem to click and everyone is in a perpetual state of honeymoon.
When the win isn't defined or when you're losing you will encounter people who turn on you. It's part of the deal. You're in it to win it. The mission you're called to is not easy. You're at work for the King of Kings and even he had thousands turn away because they wanted him to do more tricks. Judas fell away, Jesus said a prophet is without honor in his own town... even his tightest disciples fell asleep during a trying time in his ministry when he asked them to partner with him. We have to understand that if God incarnate faced difficulties with people, we're bound to face a few letdowns ourselves.
Here are some thoughts about how to keep steady in the midst of these bumps in the road:
1. Remember who's you are:
You aren't defined by your "accomplishments". You're a child of God who has his complete love and grace no matter who considers you a winner or loser. Don't set your status up as an idol in front of God's unconditional love. Jesus paid the price to bring you to God's grace. That part isn't an elevator.
2. Define the win.
Many times people get discouraged because they can't see if they are winning or not. Define the win. Salvations and baptisms are obvious wins. One problem may be that you havent' done a great job casting vision for other wins. Is a restored marriage a win? Is a certain level of involvement in small groups a win? Are attendance goals able to provide a 'win'? Be sure you clearly define what a 'win' is.
3. Get back to the basics.
Many times during a rut you will find that if you look at where you are spending your time you will see that you've gotten away from the basics. Get back to the few things you do best and that are most important to your church.
4. Get under your umbrella of support.
Take some time away and find/call those people who have your back. As a leader you need to have your arms held up at time like Arron and Hur for Moses. Go to those people who can lift you up when you are weak.
5. Take some time off.
It's easy to get worn out and emotionally tied up to your ministry. Remember that you're no good to your church or family if you're burned out. Put on the breaks and get away. Spend some renewal time with God. Push pause on being the "Pastor" and get back to being the pupil. Study for a period of time under God's teaching.
Above all else keep moving. When you've done all you can, stand. Your heavenly father will renew and strengthen you.
posted by Tally Wilgis @ Monday, August 01, 2005

links to this post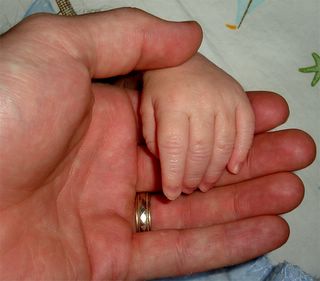 (Caleb and Daddy's hands)

I got a few emails and comments asking if the hands on the post below were those of my son and myself. They were not. I loved the idea however and went ahead and took a similar picture.
I love being a dad. Although, in his first 12 days of life my wife has been doing most of the work (Biologically I cannot feed him). I jump in to change diapers when I can and in the evenings I cuddle him, talk and read with him.
As any good parent should, I've already set down my expectations with him and I think we've come to an understanding. I expect him to crawl next week and walk the following week. I figure by September we should be playing Tee-ball.
posted by Tally Wilgis @ Monday, August 01, 2005

links to this post


(do you sense sarcasm?)
For Pastors, some Mondays can make you feel like the street sweeper at the end of a parade route for the circus. You pick up crap that was left behind and although you're doing a great service, it still smells .
posted by Tally Wilgis @ Monday, August 01, 2005

links to this post